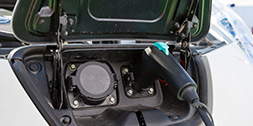 According to a report by Navigant Research, construction job sites may look different in the future with newer, technologically advanced trucks on the scene.
Medium and heavy-duty truck segments in particular will see more sales of electrified power-train types: hybrid (gasoline and diesel), plug-in hybrid (gasoline and diesel), battery electric, and hydrogen fuel cell.
The growing awareness of the need for better air quality is leading to stricter emissions targets for commercial vehicles. Governments are looking into ways to incentivize investment in more fuel-efficient technologies and alternative cleaner-burning fuels. Conventional diesel-powered vehicles are becoming cleaner and more efficient through improvements such as exhaust after-treatment and advanced fuel injection systems. However, the added costs associated with this technology helps reduce the incremental cost of moving to electric-assisted and all-electric power-trains.
Electric-powered vehicles are gaining in popularity as fleet managers see attractive ROI (return on investment), given the right circumstances. Fleet owners are taking advantage of government incentives and grants to support zero-emissions transportation options. This type of technology makes the most sense for fleet vehicles working within a limited daily range and doing a lot of stop-start driving. According to the research, global annual sales of electrified power-train medium and heavy-duty trucks are expected to grow from about 31,000 vehicles in 2016 to nearly 332,000 by 2026.
These changes to the medium and heavy-duty truck market will provide long-term benefits to the environment and the construction industry.