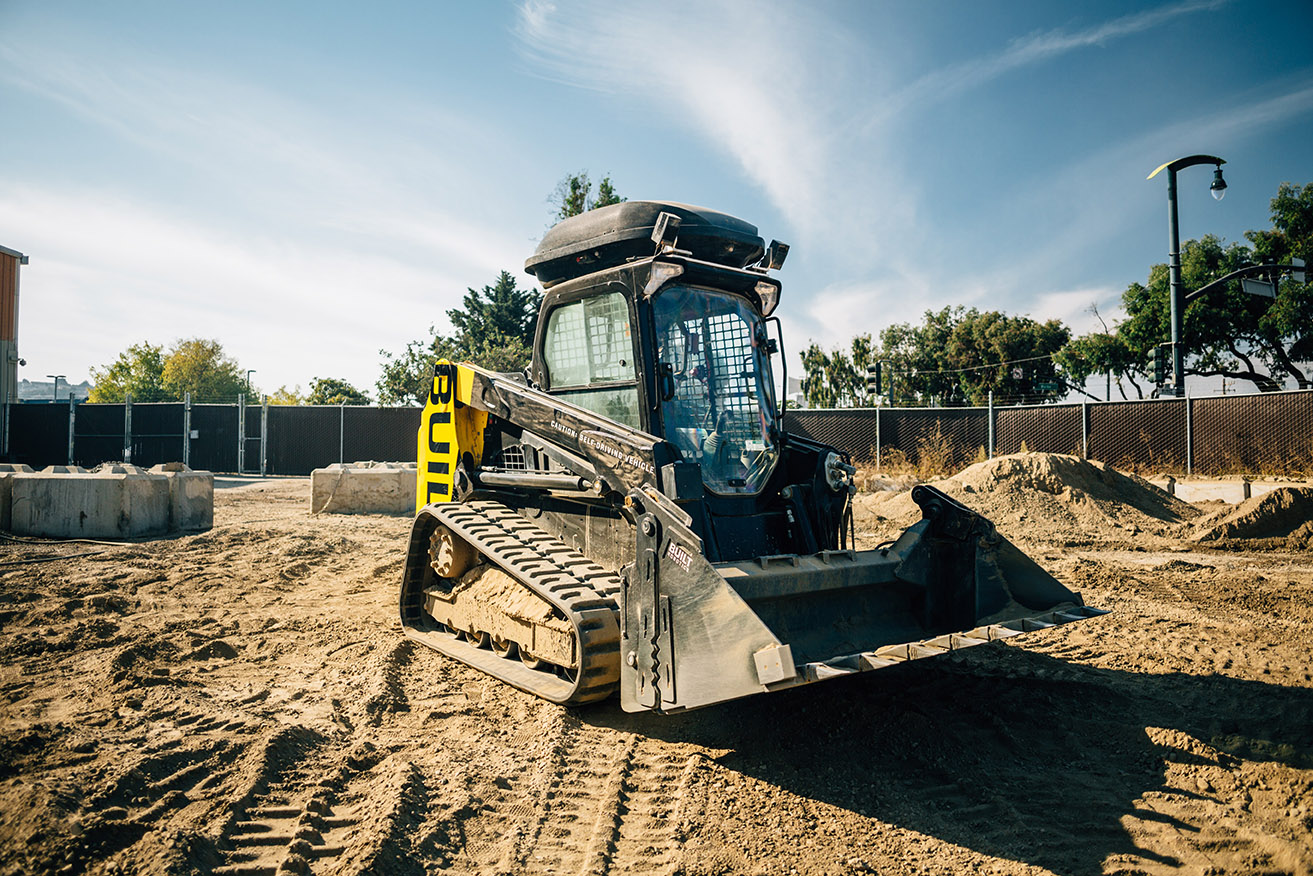 The construction industry has some problems: a chronic labor shortage, falling productivity, and an industry that remains dangerous.
A new company called Built Robotics wants to tackle those problems by developing software and sensors that can transform off-the-shelf excavators into machines that autonomously dig precise holes for hours without a break.
Founded by Noah Ready-Campbell, Built Robotics, which is headquartered in San Francisco and recently went public, has been stealthily operating a retrofitted skid steer, using a computer program to direct it and move it around dirt.
"… We kept coming back to one realization: we need a new way to build," the company says on its website.
"With that mission in mind, we came up with a simple idea. Let's take the latest sensors from self-driving cars, retrofit them into proven equipment from the jobsite, and develop a suite of autonomous software designed specifically for the requirements of construction and earthmoving."
Other companies have created kits that convert construction equipment into remotely operated vehicles, but the Built Robotics system is intended to be autonomous. In a company video, a father and daughter watch as the robot prepares the foundation for their new house, including stopping work when they walk nearby, then starting again when they are out of the way.
Using Built Robotics' software, a contractor can geofence a project to ensure that the machine doesn't go out of bounds. Following that, a contractor can "program in the exact parameters and where to move the dirt."
According to Ready-Campbell, having machines that can perform these operations autonomously is important because of the lack of skilled labor to "fulfill all the demand for new roads, dams and bridges." In addition to this reality, a lot of this work for those workers that are capable of performing these tasks is dangerous or boring.
"I've talked to some operators and they've said there are parts of my job that are really dangerous and there are parts of my job that are really boring," Ready-Campbell told CNBC.
"If you can have a robot do those things and I can focus on the parts that really take human judgment, then that's good for me."
The son of a general contractor, Ready-Campbell says that his father initially wasn't a fan of the idea of machines doing this type of work autonomously, but he eventually saw the positive aspects of it.
"When I first told dad, he reacted pretty negatively. He was like, 'Why do you want to steal these guys' jobs?'" Ready-Campbell told the Verge.
"But after watching the machines in operation, "He's come around on it."  
Ready-Campbell does not know how the technology will be priced as of yet, but he is confident that there are a variety of ways to make money off of the technology, including selling Built Robotics' sensor kits to manufacturers of these machines, or selling to contractors for retrofits. The technology could also be rented out for projects.
In the meantime, Built Robotics will work on expanding its current 10-person staff by hiring engineers. The company will do this using the $15 million it raised from Forest Baskett and Aaron Jacobson at NEA. This money will also be used to get the product ready for commercial adoption, and purchase more machines like excavators and bulldozers.
NVIDIA and Komtasu
Late last year, chipmaker NVIDIA announced that it has teamed with construction company Komatsu to bring artificial intelligence to construction sites, although in a different way as conceived by Built Robotics.
NVIDIA will use its Jetson chip to collect data on machines and people working on construction sites, and incorporate mapping from drones flying overhead, to help make construction safer.
The work, part of Komatsu's SMARTCONSTRUCTION initiative, will let the company create 3-D visualizations of construction sites, showing the real-time interaction of people, machinery and objects. 
"We'll start integrating NVIDIA GPUs into our construction sites," Yuichi Iwamoto, senior executive officer, chief technology officer at Komatsu, said in an NVIDIA announcement. "By leveraging NVIDIA's experience in image processing, virtualization and AI, we can further transform construction areas into jobsites of the future."
Eventually, however, the companies do foresee using the system to control automated machinery as well.
What's New in Unmanned Systems for Construction
New capabilities and technology advances are transforming construction and breaking new ground for increasing efficiency, creating safer work environments and achieving business goals. Now is the time to learn about the trends and best practices for the next generation of unmanned technology as well as identify new unmanned solutions that will advance the construction industry.
Join 8,500 colleagues, April 30-May 3 in Denver for AUVSI XPONENTIAL 2018. It's four days of cutting-edge education, networking and the largest showcase of drones, ground vehicles, robotics and unmanned systems in the world.
In particular, you won't want to miss the educational sessions devoted to the construction industry so you can better understand how unmanned vehicles are being effectively integrated into current and future operational plans. Keynote speakers will also inspire you with revolutionary ideas and motivational insight. You'll walk away, equipped with knowledge and power, ready to take your business to new heights.
Innovative, new ideas then take center stage in the XPO Hall as more than 725 exhibitors showcase the full spectrum of technologies, products and solutions that are driving the upward movement of unmanned systems and robotics. With more than 370,000 square feet of space filled with hands-on exhibits, interactive demos, never-before-seen products and devices, XPONENTIAL offers the largest showcase of drones, robotics and unmanned systems in existence.
And, if you are looking to build your list of "go-to" construction pros in the unmanned systems space, you won't want to miss one minute of our networking events.
Learn more and register to attend XPONENTIAL 2018 at xponential.org.