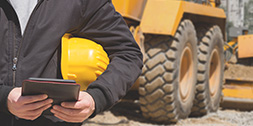 Rich data now informs the way we approach operational decision-making and fleet management. In the construction and aggregates industries, analysis goes well beyond basic telematics of years past. Jobsite challenges that were once left to guesswork can now be met with precise and actionable data.
Capitalizing on information tracked, captured and delivered with the latest telematics technology empowers companies to tangibly improve on a range of management tenets, including:
Increased ROI (return on investment) and resale value of new, used and rental equipment
Increased equipment uptime
Streamlined operational processes
Supported worker safety and accident prevention
Reduced liability concerns
Optimized personnel performance and efficiency
The new, user-friendly AEM/AEMP Telematics Standard (ISO 15143-3) enables integration of more OEM (original-equipment manufacturer) equipment data into fleet-management software, making it easier to manage and analyze information across entire fleets. With the new standard in place, equipment managers can tailor customizable telematics services to their specific jobsite needs.
Ultimately, the new standard maximizes the telematics data customers can receive in a centralized, consolidated telematics feed. More rich, integrated data means more opportunity to save both time and money.
In conjunction with the updated telematics standard, we at OEM Data Delivery are capturing even more actionable data—especially with our Service Trackers. For example, our customers are now using a supplemental Amp Sensor to incorporate true utilization of welding data into their telematics feed.
Furthermore, some of the industry's most complex safety challenges can be met with precautionary measures backed by advanced telematics.
Advanced telematics devices also help monitor potential safety concerns. Management can require that only operators who are properly trained and/or licensed can operate the equipment, with telematics reinforcing worker compliance. With accidents involving heavy equipment such as cranes and boom trucks at an all-time high, taking a proactive approach to supporting worker safety is crucial.
Employing telematics devices that monitor equipment and provide comprehensive inspection reports has financial value, too. A company that provides inspection reports, proof of regular maintenance and emergency response records should arguably be able to negotiate lower insurance rates.
When combined with active and responsive management personnel and processes, telematics can increase equipment uptime.
Now fully customizable and consolidated, telematics offers limitless possibilities toward meeting company goals and achieving bottomlines.
Sam Simons is president of OEM Data Delivery, a division of OEM Controls, Inc., based in Shelton, Conn.