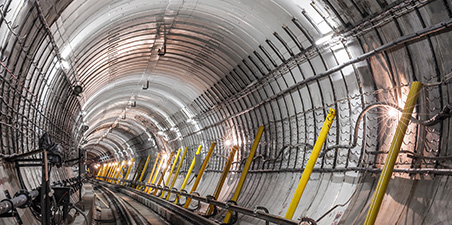 The increasing usage of shotcrete-sprayed concrete in the construction industry is one of the primary growth factors for the market. Shotcrete-sprayed concrete is increasingly becoming popular among contractors and builders, as its application is extremely economical and flexible.
It offers several advantages when compared to regular concrete and is more durable, as it imparts higher mechanical strength to buildings and construction. The use of shotcrete-sprayed concrete in construction activities makes the structure less porous which increases the bond strength and also helps in lowering the construction time and reduces costs as well.
The global shotcrete-sprayed concrete market is projected to grow at a compound annual growth rate of more than eight percent by 2021.
The underground construction segment occupies a majority 37 percent of the global shotcrete-sprayed concrete market and is expected to continue its dominance due to the growing need for transportation and increasing underground excavations.
The market for water retaining structures will showcase the fastest growth rate. The increasing demand for construction in developing countries such as Nigeria, India, and the Philippines is expected to drive the swift growth of the market segment. Prime application areas for shotcrete-sprayed concrete in water retaining structures are sea and river walls, aqueducts, swimming pools, reservoirs and dams, water towers, canal linings, and irrigation and drainage channels. The market segment is expected to grow due to the growth of water preservation structures such as dams, check gates, and others.
Europe will be the major revenue contributor to the shotcrete-sprayed concrete market throughout the forecast period. The rise in number of tunneling and mining activities in the underground construction and civil construction industries in Europe will also augment the growth prospects of the shotcrete-sprayed concrete market.
The growing underground road and tunnel construction activities in Asia Pacific (APAC) will streamline the traffic flow in densely populated regions and is anticipated to fuel the adoption of shotcrete-sprayed concrete in the region.
Even though this market is specialized, the promise of growth and new types of construction show how the industry is evolving.