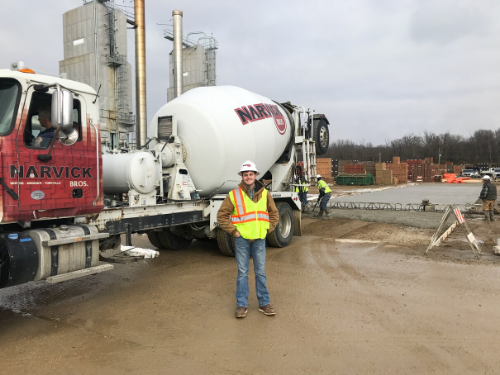 As a young boy, Andrew Narvick began his apprenticeship at the family's general contracting business sweeping floors. When he got older, he spent time after school and on weekends working in the company's lumberyard helping customers. Eventually he worked with construction crews at the general contractor's job sites. These experiences more than anything else, including a college degree in construction engineering technology, prepared him to take a position as an estimator/project manager in the family business, Narvick Brothers, headquartered in Morris, Ill. "College was important, but I don't think any school can prepare you for what this industry has to offer," says Narvick.
Founded in 1933, Narvick Brothers started as general contractors with a full-service lumberyard, and ready-mix concrete equipment. In 1945 they added a hardware store and rental of tools and equipment sold mostly to small contractors and homeowners. Today, their general contract work is growing with increased activity in pre-engineered commercial buildings. The ready-mix concrete plants have expanded from one to three, with portable sites set up as needed. 
Twenty-two-year-old Andrew Narvick represents the family company's fifth generation. The unlikeliness of such a legacy bares out in statistics generated by the Family Firm Institute – only three percent of family businesses last into the fourth generation. "It's not just our family members who span generations. We have employee families who do so as well," says Narvick. He gives reasons for why his family has been able to beat the odds: "Innovation, drive and passion have a lot to do with it. Growing up I always felt proud of our team. I get as much joy out of seeing a mason at work as I do watching our ready-mix trucks rolling down the street."
Adapting to Changing Technology
Over the years, the company has adapted to changes in technology. "The cost of new technology can be offset by saving workers' time and improving efficiency," says Narvick.  Here are some of the ways Narvick Brothers is deploying and benefitting from new technology.
Adding a finger print reader to their time/clock system allows workers to clock in using their smart phones. The biometric time clock helps the company keep accurate time records, as well as increase security for employees and safety at work sites.
Virtual reality goggles let them see what a building looks like before breaking ground. Features can be tested, faults or conflicts identified before any work starts saving them time and money.
Foremen stay connected at job sites via iPads. They have instant access to construction documents, video and photo apps, and weather data.
All trucks are equipped with new GPS. They know exactly where trucks are and when they arrive or leave. GPS helps protect vehicles from theft and also keeps drivers from getting lost or detoured in unfamiliar areas, saving time and fuel expenses.
A drone is deployed when they need to see the top of a tall building giving estimators like Andrew a better view and more accurate data to create a competitive bid.
Andrew is exploring cloud-based management software to create a single office system everyone can tie into. He also embraces another form of technology, social media. "I show pictures of buildings going up, trucks on the road, and weather challenges so people can see the reality of the construction industry. Maybe someone will see it and think it's interesting to get into this industry."
Discovering the Future of Construction
The first time Andrew attended the CONEXPO-CON/AGG show he was amazed. "I didn't know some of what I saw even existed. The equipment and tools are impressive. It's a good way to learn about new technology. Why I go back is the contact with people. They explain, give demos, and showcase new tools and equipment. We've bought trucks there. At every show there's something exciting that can help us get the job done."
Of the advice he has received through the years he recalls the most beneficial coming from his father, Barry Narvick, given when he was a boy sweeping floors: "Never turn down an opportunity to learn." He shares that same advice to others interested in working in the construction industry.

 Andrew Narvick is an estimator and project manager for Narvick Brothers. Narvick Brothers is a general contracting and construction company that specializes in carpentry, masonry, concrete, design/build, and construction management. Located in Morris, IL, Narvick Brothers is an established general contractor, family owned and operated for over 80 years.
Join over 40,000 industry peers who receive construction industry news and trends each week. Subscribe to CONEXPO-CON/AGG 365.