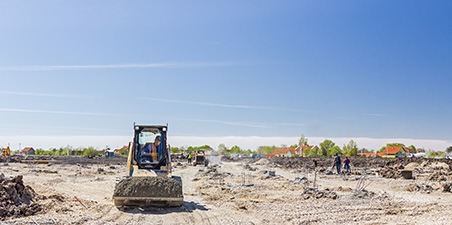 Construction equipment, such as skid steers, continue to advance at a rapid pace. For operators out at the jobsite, understanding the new technical features can help improve how they work.
Jeff Brown, product specialist, Caterpillar, explains that customers need any technology that reduces or eliminates labor.
In the case of skid steers, they are a jack-of-all-trades, so to speak. This type of equipment often has a number of different attachments that can be used to save labor time and energy. Now, many of the pieces of equipment are getting a new infusion of technology that are set to further reduce the labor on the jobsite—which comes at a critical time with the skilled labor shortage.
Today this technology comes in the form of grade control systems that can help a construction firm complete a job in less time and with minimal material waste. "Laser or GPS guidance also eliminates the grade checker from the jobsite, which saves on labor cost and improves safety," explains Brown. Further, he adds that grade accuracy lays the foundation for the rest of the job to be completed well.
Much of the technology is already on equipment, but more will be coming in the future. It becomes essential for operators to identify what is already here today—and what will be coming tomorrow.
Skid Steers of Today
Today, Tier 4 engines have driven the need for manufacturers to put more technology in the machines. At the same time, manufacturers have also added technologies such as automatic grading solutions, which allow for more accurate results, requiring less time and labor from the operators.
"It has a variety of other measureable benefits including its ability to work off elevation coordinates set up around the jobsite, display point data, machine diagnostics and jobsite progress live from the field to an office computer," explains Joel Honeyman, vice president of innovation, Doosan Bobcat North America.
Also, loader instrument panels enhance a machine's functionality to provide critical information to the operator, as it can track individual fuel usage, real-time fuel consumption and idle time intervals, according to Honeyman. "By having this on-board diagnostic tool, operators can troubleshoot problems while on the jobsite and help prevent issues before they occur."
This type of technology on skid steers provides a lot of value to the construction industry today. It allows operators to work smarter and safer, while preventing potential hazards for operators and bystanders on the jobsite. On-board technology also improves efficiency and productivity for the operators.
Fleet tracking technologies, including telematics, is another area that many manufacturers are focusing on today. This technology will allow equipment owners to easily track equipment and jobsite happenings—including location, machine health, performance, fluid levels and operator performance. In addition, this technology has the ability to immediately notify dealerships about equipment issues, allowing service technicians to diagnose machine issues remotely. More often, this can all be done from a cellphone.
This is in line with the overall trend toward greater connectivity and access to data in both personal and professional settings. Honeyman explains that users are often more use to new technologies in all aspects of their lives and they are quickly coming to expect to also use it in compact equipment.
Further, today, skid-steer loaders are starting to be equipped with features that enable future technologies—essentially futureproofing the equipment for what is to come further down the line. This includes incorporate technology such as sensors and back-up cameras.
"These technologies will be available only on newer types of equipment that will help maximize productivity without having to make trade-offs for operator safety and comfort," says Honeyman.
While this is some of the technology that is already here on skid steers today—the manufacturers are saying there is also much more slated to come in the future as well.
Skid Steers of Tomorrow
What will skid steers of tomorrow look like? In general, they will have technologies that can provide operators and business owners with improved performance, safety and better oversight of their companies.
Today, there is on-board technology to make grading systems and other labor-saving technologies more plug and play, but going forward this will continue to become more integrated for a seamless user experience for the operator when going from tool to tool or task to task.
"Uptime is also key for a contractor to complete jobs on time," explains Brown of Caterpillar. "Newer models are naturally more reliable."
More specifically, the technologies will eventually lead to autonomous machine operator, which will allow owners to have operator-less equipment to complete redundant and repetitive tasks like site prep, according to Honeyman of Doosan Bobcat North America.
Looking even further out, for jobs that do require an operator, some manufacturers are also designing machines that are equipped with virtual and augmented reality. "For instance, design plans—including features elevation and grade data—may appear on the front windows of operator's machine for easy accessibility," says Honeyman.
At the end of the day, technology is already here, helping make the jobsite more productive and safe, but going forward there will be new ways technology can help construction companies remain competitive.
Brown of Caterpillar concludes, "The adoption of technology helps the contractor stay competitive and earn more bids. Technologies are really tools that enable a contractor to get jobs done faster, with less labor, and with greater precision."
That is exactly what operators and construction companies can expect to see on skid steers in the future.
Join over 32,000 industry peers who receive construction industry news and trends each week. Subscribe to CONEXPO-CON/AGG 365.