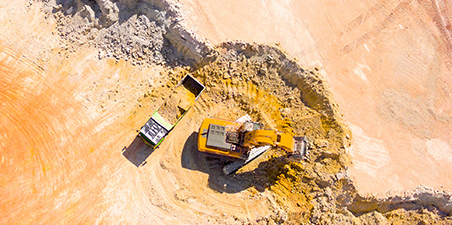 So, you've made the decision to get a drone. The good news is there are a few standout choices that will work superbly for almost all the usual missions that you do with your drone. As for the best drone for your construction site that can lift heavy payloads like large cameras, RTK rigs, or infrared inspection, the choices are not quite as clear. 
If you don't plan to use special cameras or carry heavy loads, then DJI has a drone to fit your needs off the shelf.
DJI has done a brilliant job of engineering a line of drones that are consumer friendly, are in-expensive, and have a set of features that have set its product apart from all the rest.
Best Drone for Construction:
DJI Phantom 4 Pro: This is a top choice drone that has object detection and collision avoidance. It is also armed with a pro-quality camera that records video in 4K with a 100mbps bitrate and has a 20MP 1 inch sensor. This camera does a great job of 2D/3D mapping and has a great stabilizing gimbal. This drone is professional grade, yet very affordable.
The Phantom 4 Pro streams video to your mobile device to show you a "birds eye" view in HD. It can stay in the air for 25 minutes and works well with DJI supplied software and apps from third parties (such as Drone Deploy, Litchi, AutoPilot). It can also be equipped with DJI googles for FPV flight.
DJI Inspire 2: This is a fantastic piece of engineering. It does everything that the Phantom 4 Pro does except that the camera/gimbal module is interchangeable. It also has landing gear that retract to keep the gear out of the shot.
This allows you to mount a variety of cameras ranging from an all-purpose 4K camera up to a pro film makers camera (ZenMuse 4/3 5.2MP), which costs over double what most complete drones cost.
In an application using RTK or photogrammetry or for doing infrared heat map scans or for using NVDI cameras to check on crop health, the interchangeable module system coupled to a state-of-the-art flight controller with an array of position and avoidance sensors makes this the most versatile and impressive drone on this list, but costs accordingly.
Mavic Pro: The Mavic Pro is also an amazing device. It is a very compact drone that folds into a very small package.  When it first came out last year, it was the most sophisticated and capable drone available. It has 25 minutes flight time and has an ultra stable gimbal that holds a 4K camera. It uses sensors to avoid objects or to go around and over obstacles. It has dual redundant sensors and CPU's and a new vision system called Ocusync that supports range to 4.3 miles. This all fits into a small camera bag and is still among the most capable drones in existence.
Although the Mavic Pro is the most fun, the most portable, and is totally inconspicuous, I can't give it first place. It isn't quite in the same class with the Phantom 4 Pro or Inspire 2 for commercial work due to the camera not being quite as good as what is included with the Phantom 4 Pro, or Inspire 2.
What's around the corner?
There are some exciting things coming, perhaps DJI will have some competition. 3DR was not able to compete with DJI, and GoPro wasn't able to compete either. Let's see Autel Robotics have a go at it with the EVO.
Richard Evans is a UAV pilot and has been an IT professional with SpawGlass for 17 years.