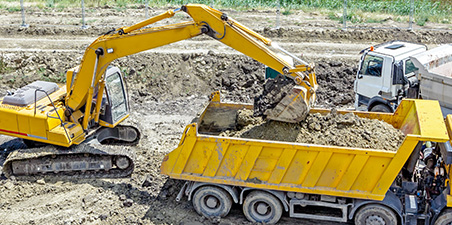 The global construction sector is one of the world's largest manufacturing industries. However, it is also one of the least automated. Smarter technologies and automation, including 3D positioning and guidance, is a key factor to automating the industry, to increase productivity and deliver incredible ROI for contractors.
Traditionally, when a construction site was ready for grading, a surveyor would first stake grade level points. Afterwards, heavy machinery would come in and grade to the levels of the stakes, oftentimes accidentally removing stakes along the way. Although this method worked, technology has evolved to make the process simpler, safer, and more efficient.
With the advent of Global Navigation Satellite Systems (GNSS)-based (3D) machine control & guidance technology, heavy machinery can be equipped with all of the required components on the machine itself. A machine equipped with an entire system eliminates guesswork between stake points and cut/fill can be performed in real time, increasing job accuracy, productivity, and efficiency.
Barriers to Entry
However, entry barriers remain, keeping adoption rates for 3D machine control and guidance technologies low. High initial investments may be the biggest challenge to higher adoption as 'one size fits all' simply does not apply. Multiple configurations and additional features for different machines can increase costs. Nevertheless, the overall productivity and ROI benefits can easily help justify this hurdle for many applications.
Another challenge is the potentially daunting learning curve and expertise required to properly use this new technology. Although new systems and workflows are becoming easier to use and more intuitive, these solutions are not yet developed to arrive at a jobsite to begin work immediately. There are technical preparations that need to be calibrated properly beforehand, such as data preparation, site calibration/localization, and RTK setup to ensure maximum effectiveness.
Benefits of 3D Machine Control
The competitive edge contractors can maintain using the benefits of 3D machine control and guidance systems should outweigh the cons. These new systems aid contractors in setting up a jobsite quickly, while the accuracy and precision of using GNSS-based systems results in significantly less rework and increased job time efficiency.
Overhead and operating costs are also reduced as operators can achieve desired grade rapidly, using less fuel and resources. Further, completing the work entirely within the cab of a machine promotes a safer work environment and significantly increases production.
By Gabriel Grenier-Baird, marketing manager, HEMISPHERE GNSS