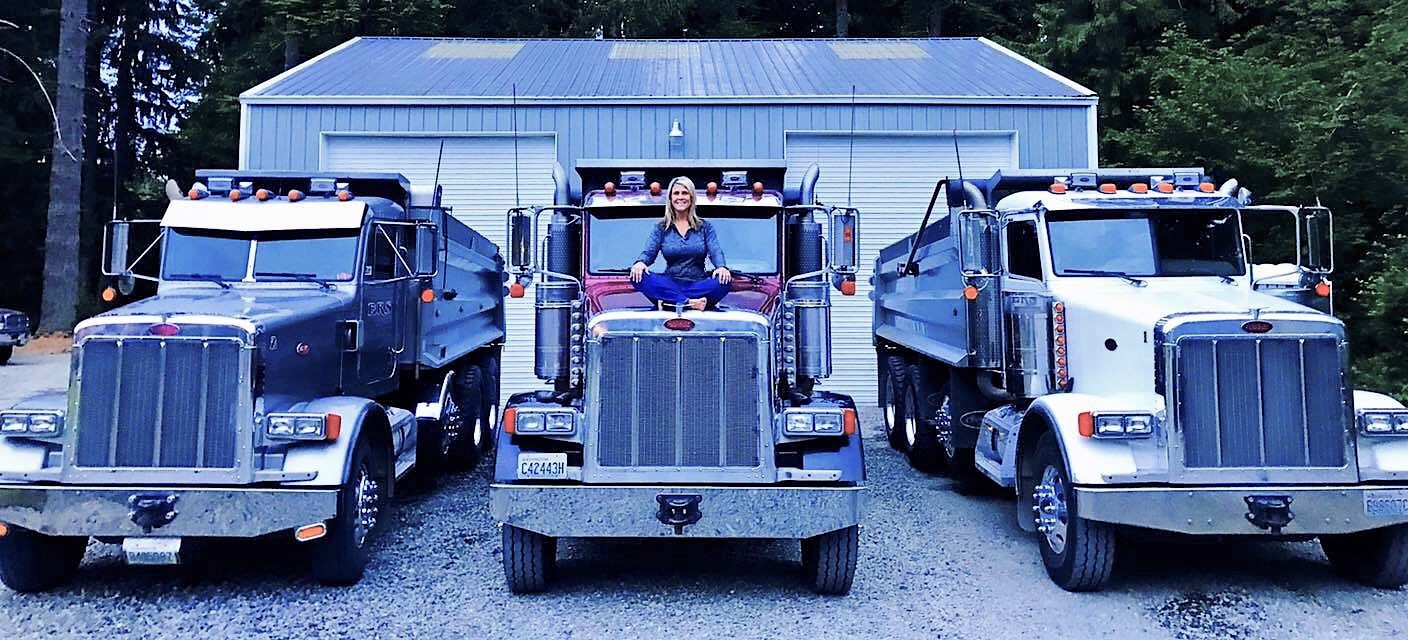 Female truckers comprise just 7 percent of all truck drivers nationwide, but in Ellie Hinds Smithson's family female truckers are in the majority.
"I come from a long line of female truck drivers," says Smithson, the owner of ERS Trucking based in Snohomish, Wash. "My grandmother drove a potato truck and transit bus. My mother drove a dump truck. I have two sisters who both have a CDL (Commercial Drivers License). One is an ice road hauler in Alaska and another drives for Boeing. "
It was only natural that Smithson started driving a truck in at the age of 18. She made the leap to purchase her own truck in 2008, just as the economy headed into recession.  
"I refused to fail," says Smithson. At first she felt she had to work twice as hard to prove she was half as good, but as time went on, she felt more accepted.  "The industry has really evolved, "she says. "It 's still a male-dominated industry, but I feel I belong as much as anyone else."
The Power of Being Likeable
ERS Trucking hauls primarily for paving contractors and site preparation contractors working on residential construction projects.  Over the years, the ERS fleet has grown to four Peterbilt dump-trucks while the staff has expanded to five full-time and three part-time employees.  
"In our industry it's who you know and who likes you," she says. "Being likeable is your biggest marketing strength."
A serious driver shortage presents an ongoing challenge. "I have more work than trucks, more trucks than I have drivers," says Smithson.  She's thankful to her paving and site prep customers who are easy to work with and make life easier for her drivers.  In addition, Smithson believes it is important to have open communications and show appreciation for drivers. "I didn't know until I was an owner how much drivers should be appreciated. They are the reason why we can do what we do."
Finding Business Efficiencies with Technology
A GPS-based technology ERS researched at CONEXPO-CON/AGG 2017 is helping the company better manage their fleet maintenance and their drivers. "GPS tracks where my trucks are," says Smithson. "I know if drivers are revving the engine. I know their speed. I know when oil changes are coming up.  It has really simplified our maintenance program."
The company is considering the purchase of dash cams and driver cams to take advantage of insurance discounts.  Smithson hopes to take her entire team to CONEXPO-CON/AGG in 2020. "The draw is the technology you are going to see," she says.  "At the 2017 show I was exposed to so much more technology than I would have at just a truck show.  And there were some incredible people, both vendors and attendees. I just wanted to soak up whatever knowledge I could."    
Passing on a Family Legacy
Smithson is proud to have blazed a trail for female truckers, but even more proud that her 26-year-old daughter (also a licensed trucker) is now the operations manager for ERS. "She grew up in the passenger seat of the dump truck," says Smithson. "And now she's managing the company for me."
 Her focus in the coming years is on building a legacy that her children can carry on.  She would like her son and son-in-law to join the business as she takes advantage of new opportunities in excavating. She shows no signs of being tired from 28 years working in a male-dominated industry.  For her it seems that being in the trenches with the boys is the perfect place to be.  
CONEXPO-CON/AGG is North America's largest construction trade show representing asphalt, aggregates, concrete, earthmoving, lifting, mining, utilities and more.Join 130,000 construction professionals like Ellie at the next show, March 10-14, 2020 in Las Vegas, as they get the products and knowledge to be more competitive. For the latest show news and updates, visit http://www.conexpoconagg.com/subscribe.