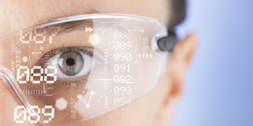 The enterprise wearable market is experiencing a shift from wrist-worn devices to body-worn and head-worn wearables, according to one new report. For the construction industry, body-worn devices provide a number of benefits at the jobsite.
ABI Research forecasts enterprise wearable shipments will grow from 30 million in 2016 to nearly 147 million in 2021.
The body-worn segment includes smart glasses, VR headsets, hearables, wearable cameras, smart clothing and mHealth devices. Wrist-worn wearables can collect data, but their enterprise appeal remains limited relative to the broader opportunity provided by body-worn wearables.
The most common form of wrist-worn enterprise devices is wearable scanners, which are projected to comprise 73 percent of devices shipped in this segment by 2021. The body-worn enterprise wearable market will become much more diverse, as awareness surrounding the benefits of devices like head-mounted displays continues to increase. These devices in particular allow workers to stay connected and access systems' information in a hands-free manner.
Wrist-worn devices will not go away, but body-worn devices will continue to overshadow their growth. Central to enterprise wearables' move up the adoption curve is the general migration from mobile to more desk-less and dynamic work environments, where companies like Google, Microsoft, ODG, and Vuzix are heavily invested. The construction industry will be the quickest to adopt wearables with their portable nature being a huge attraction.