Michelle Hands is founder of NJ Engineering, a construction site services firm based in Leeds, England. At the age of 37, she's been working in the industry for 15 years as a land surveyor, site engineer and project manager. She is also married, a mother, and advocate for women working in construction. After studying geography in college and nurturing an interest in filmmaking, she took a summer job at a waste management company that lasted five years. During that time, she learned the ins and outs of on-site construction work.
The high demand for site engineers in the United Kingdom was a strong reason for her to seek additional training at Finchley College, which specializes in construction site surveying and engineering courses. With field experience and professional certification, she started her own firm. Of her first project management job she says, "I wanted to see if I could do it from start to finish on my own. It allowed me to gain insight into everyone's role on the project."
She owns a Topcon GNSS Total Station. "It was expensive, but worth it. I use it every day. It gives me the freedom to get work and create drawings." She's interested in learning about project management software, 3D modeling, and robotics. "It's fascinating to see how far things can go," she says.
Exposing Women to Jobs in Construction 
Hands cultivates industry contacts through work projects and social media. She has a robust following on her YouTube, Instagram and Twitter accounts which she uses to inspire women and inform them about working in the construction industry. She also documents her observations and experiences through videos and blog posts on her website: ThisIsAMansWorld.co.uk. "I found that people were interested in my work life being a woman in a man's world. One of my goals is to let women know what's really going on, in an authentic way. I want to give exposure to a job I like and get paid well for."
She often finds herself being the only woman at a site. In the U.S., 9.1 percent of the construction industry workforce is women with less than 3 percent of them working in the craft trades. According to the U.S. Bureau of Labor Statistics women in construction earn on average 95.7 percent of what men make, which is significantly higher than the average 81 percent in other industries. In the UK, women employed in construction is slightly higher at 11 percent, but average wages for women are 12 percent less than that of a man working the same job according to the UK National Office of Statistics. 
Cultural Change in the Construction Industry
As an advocate, Hands sees herself and others as influencers for cultural change in the construction industry. "Most of the guys I work with have my back. Particularly the younger ones. They tend to be more accepting of a woman on the jobsite." She believes parents, educators and members of the media can play an important role. "If they expose girls to jobs in construction when they are young, girls will see the possibilities." She says many of the tradeswomen working on-site that she communicates with were encouraged to do so by a father figure.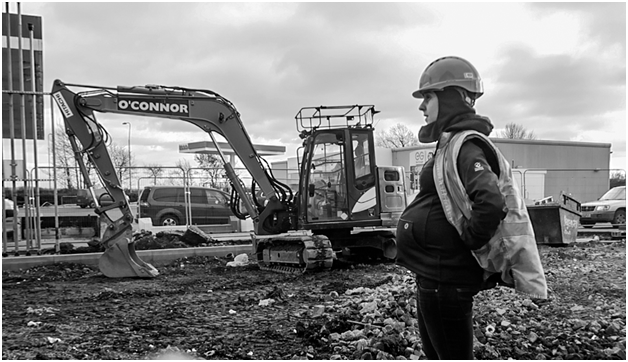 When Hands posted a photo of herself 8-months pregnant at a worksite on Instagram, it attracted a lot of attention. As a result, Hands was featured in articles in The Mirror and The Daily Mail newspapers. In the photo that accompanies the articles, Hands is smiling with her bare belly showing the words she had written on it: "I'm building two projects at once." The picture was meant to be a keepsake for her baby, so she was surprised by the public attention. "It's a reminder to me of women's ability to multi-task, manage, and find balance in life. I joke that the physical demands on a construction site don't compare to those of childbirth."   
At 5'5" tall and lacking an engineering degree, Hands describes herself as not physically robust or overly intelligent for a reason: "I work hard and learn from others. Construction is a team effort. I try to convey to women that if I can do it, they can do it too. They shouldn't be afraid to try."
Hands is not afraid to share a post on social media about the day she cried at work or tackle industry issues in the news. She also wants to document how women in other parts of the world are contributing to the construction industry in their countries. She hopes that one day, being a woman working in construction will no longer be the exception, but a norm. 
*Images courtesy of Michelle Hands
Join over 32,000 industry peers who receive construction industry news and trends each week. Subscribe to CONEXPO-CON/AGG 365.
Read Next
Woman-Owned Trucking Company Finds a Niche with Site Prep and Paving Contractors