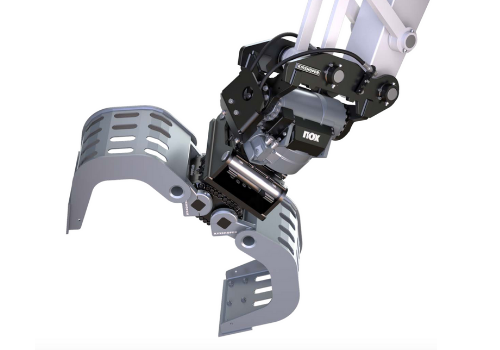 A tiltrotator is an attachment that allows your excavator attachment to rotate 360 degrees continuous and swivel about 45 degrees to each side. Placed between the stick and another attachment, the tiltrotator gives your excavator wrist-like capabilities for your excavator, and that has huge productivity benefits.
"The tiltrotator brings a tremendous amount of flexibility to a jobsite that a conventional excavator layout does not," says Case Pikor, Ambassador, engcon North America. "Instead of repositioning the machine, which requires energy and wear on the tracks etc., the attachment can be repositioned which is far less expensive from a depreciation standpoint, as well as less time consuming."
"There is a misconception that tiltrotators are only for grading—finishing work, but the truth is the units are much tougher than they look and performing any task, a machine equipped with a tiltrotator will see efficiency gains," says Christian Yanes, President, North America, Steelwrist. "In fact, many applications can benefit from a tiltrotator."
"With their wrist-like capabilities, our NOx tiltrotators are proving great success in landscaping, pipework, roadwork, cable work, general construction and railroad applications," says Franz Jaud,Global Product Line – NOX Tiltrotators, Kinshofer.
How Tiltrotators Help Increase Productivity 
Originally developed in Europe, these attachments have been popular there for years, because contractors have discovered that they can often use one less crew to accomplish the same work. As contractors in North America have struggled to find laborers, and as the price of labor goes up, contractors in North America are willing to pay the up-front cost in order to save on labor costs while increasing productivity. Whereas, a decade ago, there was only one tiltrotator with a presence in North America, now there are several.
"In some parts of the country it's difficult to find labor. Contractors are willing to pay for labor, but people don't want the job, so contractors turn to Steelwrist," says Yanes. "And, the people who have adopted tiltrotators the fastest are landscapers."
Traditionally, in decorative stone placement, landscapers would pay someone to hold a shovel while standing next to an excavator only to flip rocks that the excavator has laid. Using a tiltrotator eliminates that extra person. "Using a grapple with a Steelwrist beats a thumb every day of the week, because you can rotate and tilt to precisely place rocks exactly as you want," says Yanes.
Contractors who don't hire labor (and do everything themselves) get tired of jumping in and out of the machine when switching between machine tasks and manual tasks. Adding this extra movement to the stick of the excavator means they can stay in the machine more."
What You Need to Know About Each Tiltrotator Manufacturer
The Steelwrist tiltrotator uses a gear and a screw to achieve rotation. There is a hydraulic pump (motor) that rotates the screw, which is connected to a gear, which is connected to the lower pumper of the Steelwrist. Tilt is achieved by using tilt cylinders; one pushes down while the other pushes up, which results in a stronger tilt force.
The engcon tiltrotator uses a worm gear and worm screw drive to achieve rotation by using either a single tilt or cylinder or a dual tilt cylinder, depending on the size of the machine.
Kinshofer uses a worm drive technology for the rotation and an elliptical helix drive for the tilting. While all makes achieve 360 degrees continuous rotation, only the Kinshofer NOx achieves 100 degrees tilt (50 degrees each side), whereas other makes only achieve 90 degrees.
"We have two extra functions on all TR models, 1x low flow, which is most of the time used for the integrated gripper and the high-flow for all kinds of attachments, such as grapples, compactors, mowers, drum cutters, etc.," says Jaud.
Understanding Tiltrotator Use Cases
Tiltrotators increase diversity by increasing the number of tasks that an excavator can perform well. With a tiltrotator, excavators can be equipped with pallet forks for loading and unloading trucks. Using it in conjunction with a bucket allows you can easily dig around obstacles without the need for people with shovels to dig close to the obstacle. You can grade more easily and at greater angles than with a front-mounted dozer blade. And, by increasing the versatility of your excavator, you may be able to decrease the number of machines needed on a project.
Tiltrotators do have a few draw backs, including extra weight at the end of the stick and a marginal loss of lifting capacity and breakout force, but, according to Steelwrist, the pros outweigh the cons.
"Imagine working on a crossing in a large downtown; there are automobiles, public transit and pedestrians. You can't reposition the machine as much as you want so the tiltrotator gives the flexibility to perform the tasks without moving the machine and obstructing traffic and increasing risk, because you are working in a congested area that needs to be shared with the general public."
Less movement of the machine means less wear and less opportunities for struck by accidents. The tighter the jobsite, the more you will get out of a tiltrotator.
Also, if you need to change hydraulic attachments while using a tiltrotator, you can change them without leaving your cab.
"Thanks to our EC-Oil system, the tiltrotator can be disconnected from the machine without leaving the cab, and hydraulic tools can be attached below without having to connect or disconnect hoses," says Pikor.
With the ability to easily connect and disconnect to numerous hydraulic and other attachments, as well as function like a wrist, tiltrotators enhance excavator's capabilities.
See the latest equipment and technology at CONEXPO-CON/AGG 2020, March 10-14 in Las Vegas. Register now at conexpoconagg.com.