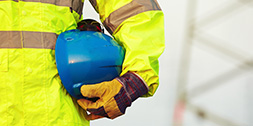 The latest trend gaining momentum in the protective work wear market is the arrival of wearable technology. There has been an increase in the adoption rate of the wearable technology in the construction industry.
This technology is gaining momentum in the industrial segment as well. Implementing wearable technology in the industrial environment is a new trend that will ensure and enhance employee safety. The wearable technology is a subset of IoT (Internet of Things), which is used to collect data and provide information. A wearable user interface provides vital information through electronics that are designed to be worn on the human body. The global protective work wear market will grow at a rate of 4.98% from 2017 until 2021.
A major driver for protective work wear market is robust growth in construction industry. Construction workers use flame-retardant apparel to protect themselves against hazards such as fires, arc flashes, and electrical flashes. The flame-retardant apparel is designed for designated areas where workers a highly exposed to heat and flame.
In the construction industry, workers engage in activities that require setting up of electrical circuits and welding of materials. These activities pose work hazards to workers. The advancements in this market will help contractors be safer on the jobsite when performing their work.