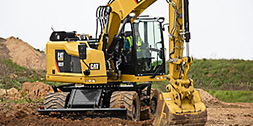 Are your excavators smart? Can they sense loads? Can they automatically lower engine speeds automatically? Now, new equipment is emerging that is going to change how work is done at the jobsite.
As one example, Caterpillar has the M315F and M317F compact radius wheeled excavators, which are additions to the recently launched Cat F Series wheeled excavator range.
The new models have a load-sensing hydraulic system designed to provide fast cycles, generous lift capacities, and high bucket and stick forces. The hydraulic system also reduces the load on the engine by matching flow to load demand, translating into lower fuel consumption.
These excavators also have "smarts" when it comes to fuel efficiency. For example, the machines feature Automatic Engine Speed Control that lowers engine speed when maximum power is not required. An engine idle-shutdown system also saves fuel by stopping the engine after a preset idling interval. In addition, the Eco Mode reduces engine speed to save fuel, but does not compromise power or performance. The automatic shift-to-travel mode optimizes driveline performance, while also conserving fuel, and the cooling system features a variable speed, on-demand fan for further fuel savings.
This is just one example of the many excavators available to contractors today—and demonstrates how excavators are becoming more intelligent on the jobsite.