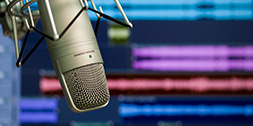 Whether you are on the job or in the office, podcasts can help construction companies get access to the latest information on how technologies are advancing. A podcast is an audio show, much like a radio show, that you can get on the Internet, so you can listen any time you want. Roughly, 1 out of every 5 Americans listens to a particular podcast at least every month. Do you?
People who consider themselves podcast devotees average about five episodes per week. You have two options: You can stream a podcast through a Website or you can download a podcast, which means you're saving it on your phone, or tablet, or computer, and you can listen to it anytime, even without an Internet connection, which provides a good option for contractors at remote jobsite.
There are countless podcasts covering every conceivable topic. There are interview, sports, comedy, news, repackaged radio show podcasts, and enthusiast podcasts for anything with even a tiny fan base. A podcast that would be of interest to many contractors is the CONEXPO-CON/AGG Radio show.
Most podcasts have dedicated websites, where you can also listen to episodes directly on their site. For instance, the page for the CONEXPO-CON/AGG show is:
When you download, you get it delivered to your phone or tablet each week using an app. For Apple products, use the Podcasts app. You get it from the App Store or it is installed on the device. In the Podcasts app you search for the podcast and then hit subscribe. Once you find the one you're after, tap on its show art, under Podcasts, then click the purple Subscribe button. It will then show up in your feed—the main My Podcasts section.
For Android products, you need an app from Google Play. In the app, search for the podcast and click the plus sign (+), to add it to your Favorites List. Now go to the Favorites List. Tell it to download new episodes by clicking the gear in the upper right corner.
Subscribing to podcasts is an action that causes them to automatically pop up on your device as soon as new episodes become available. The most widely supported way to subscribe to a podcast is through iTunes. When you subscribe to a particular podcast, you're asking for any future new episodes to be automatically sent to your listening device, so that you don't have to remember to manually check if they've published a new episode. The iTunes page for the show is:
CONEXPO-CON/AGG Podcast iTunes
On the native Podcasts app, you just tap on an episode, and it starts auto-playing. If you don't yet want to subscribe to a show, you can often play an episode directly on the podcast's site.
The CONEXPO-CON/AGG podcasts are free. Podcasts are a great way to learn more about the construction field. They are convenient, free to listen to, and available when you want them. Maybe next time you are on the jobsite, driving to work, or just working out, turn on a CONEXPO-CON/AGG podcast rather than listening to music. You just might learn something to keep you safer on the jobsite.