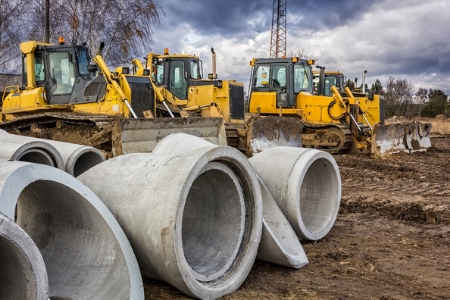 Thanks to continuous technological advances, heavy equipment fleet management has evolved leaps and bounds in recent years. Critical, data-driven metrics are being devised, resulting in improved time management and implementation. With the evolution of telematics, a branch of information technology that deals with long-distance information transmission, construction equipment fleet management has become less strenuous. And with the market set to exceed the $460 million mark by 2022, more tools are being made available to ease asset tracking.
Here are a few tools to consider implementing:
1. Skywave IDP-782
Created by ORBCOMM, a provider of machine-to-machine and IoT (Internet of Things) solutions, this cellular-friendly construction equipment tracking device is designed for tracking vehicles. It is also used for driver monitoring applications in areas where cellular coverage is fully accessible.
This dual-mode communications terminal offers fluid connectivity to assets in fleet management applications moving in and out of cellular range. It possesses a flexible build that allows for custom applications to be developed for more complex solutions. Benefits include lower-cost data transmission and quicker deployments with the use of configurable software applications. Plus, if the cellular network is unavailable, you can rely on the consistent, two-way satellite communication it provides.
2. viaFleet App
Another application to consider is the viaFleet app, which makes fleet operators able to locate mobile assets in real-time. As a fleet operator, you can use the app to streamline vehicle maintenance schedules, communicate with drivers and monitor their behavior to make sure they're not doing anything out of the ordinary.
Featuring an easy-to-use graphical interface, it works with the Skywave IDP-782 mentioned above, using a map to display asset locations. It also offers advanced reporting measures to keep tabs on speeding events, dwelling times, and asset health, among other things. 
3. Approved ELD Devices
Technological providers such as GPS Insight provide GPS vehicle and asset tracking solutions for commercial and government fleets. Using an Electronic Logging Device (ELD) helps streamline fleet management while ensuring everything meets the Federal Motor Carrier Safety Administration (FMCSA) standards.
An electronic logging device combines the use of Android tablets with GPS trackers, creating a seamless user interface that drivers and dispatchers can communicate over at will. Its management portal is web-based, secure, and accessible via any mobile device. As a result, communication with drivers or the entire fleet is more fluent and unhampered by the need to make incessant phone calls trying to figure out if all is well.
ELD tablets also have navigation features that act as visual aids for drivers, allowing fleet managers to direct them, using designated truck-specific routes.
4. ZFuel
This application is suitable for singling out non-diagnostic issues with trucks, and it uses telematics data collected by a device connected to the engine control unit. That data is analyzed for various key points, including fuel efficiency while allowing fleet managers to grant incentives to drivers who display smart, fuel-saving driving practices.
Each driver earns a Driver Efficiency Score, giving managers a guideline to evaluate and implement driving methods that save time and money. It looks at engine idle time, what gear the truck is in, and how often the driver uses cruise control, among other factors.
But don't worry if you're a driver who had a rough day on the road due to unforeseen circumstances. ZFuel takes into account things that are out of your hands. These issues include weather, altitude, and terrain. The application can also prevent you from being a victim of false claims as the data accrued assists your company in recreating scenarios for more in-depth analysis.

Evolution of Fleet Management
The development of such tools, as well as the continued reliance on telematics, makes heavy equipment fleet management worth investing in.
Terms such as the Internet of Things are vital to understand if you're a construction business owner, CIO or IT professional. This computing concept describes a future where every day physical objects will be connected to the internet and be able to identify and communicate with other devices. Operations are safer, and fleets are better informed. Hence, having these tools further punctuates why constructing equipment tracking has become increasingly computerized.
With the use of telematics and the data it provides, a larger fleet can be used while the costs for equipment and fuel are reduced. The sophistication of telematics has rendered older fleet management models obsolete, and each element of your team accumulates greater knowledge, so projects become more achievable. That's what you strive for at the end of the day, isn't it?
For the latest news on construction technologies, subscribe to CONEXPO-CON/AGG 365.