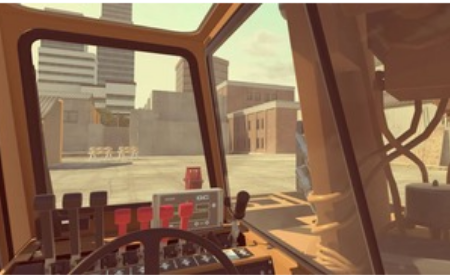 No matter where a crane operator is, Zack Parnell, president and CEO of Industrial Training International (ITI), can put him or her inside a crane cab using virtual reality simulation. The simulator hardware and software are able to give any equipment operator the ability to experience conditions and controls as if on the jobsite.
"Virtual reality is a knowledge transfer system that couldn't have come at a better time," Parnell says. "We partner with equipment manufacturers and world-class designers, developers and artists to build equipment operator training and assessment simulators that are indistinguishable from the real world." ITI and its development partner Serious Labs, have developed virtual reality simulators for five mobile crane models, overhead cranes with various controls, and tower crane so far.
The ITI VR Crane Simulation Library was introduced at CONEXPO-CON/AGG 2017. "It was the first available virtual reality crane operator simulator that we know of on the planet," says Parnell. "We got a lot of attention from that launch."
Training the Next Generation of Operators
With 40 percent of the U.S. construction labor force born between 1946 and 1964 (Boomers) the industry is bracing itself for a shortage of workers and the loss of skilled mentors through retirement. "Employers have been doing an excellent job of developing their people. Regulatory occupational health and safety administrations in most developed economies have also played an integral role in identifying requirements to train and qualify workers for tasks," Parnell says. "But knowledge transfer needs to be quick, efficient and effective. Technology can help." He believes virtual reality training can fill the void.
Parnell didn't hitch his early dreams to leading an industrial training company founded by his parents. He got hooked on baseball as a kid and played varsity baseball at Hawaii Pacific University on a scholarship. After realizing his baseball skills were not enough to plan a future around, he dabbled in financial services but felt no passion for it. Parnell recognized in himself a persistent desire for learning. With e-learning releasing students from the reigns of geographic location, the Parnell family worked together to transform ITI into a multifaceted education business with training centers, online learning, and virtual reality simulation.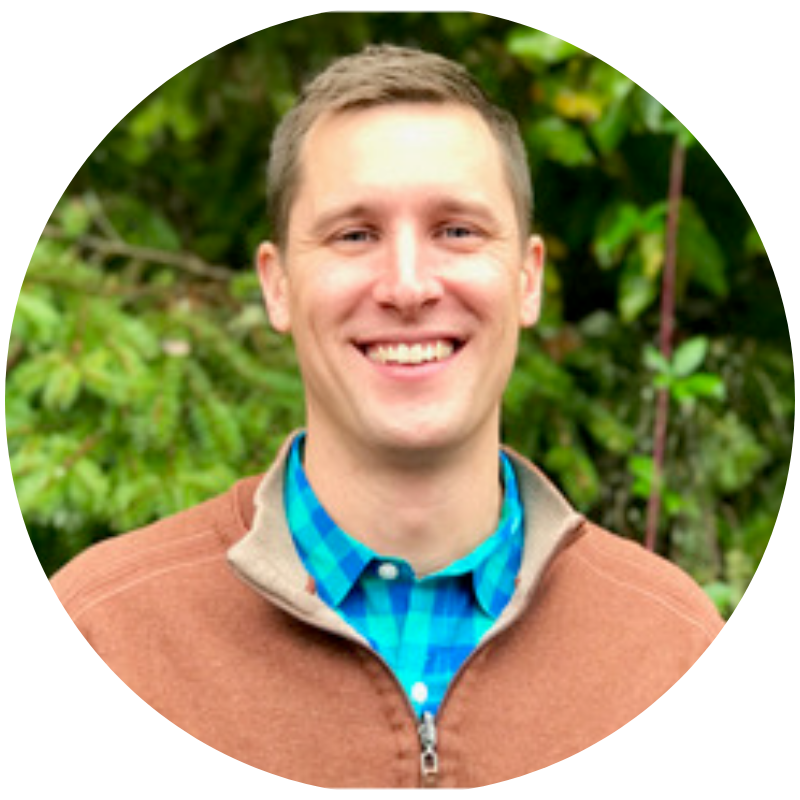 Immersive virtual reality training can be completed using only a headset and software platform. "We can't put tower cranes across North America for training purposes. It's too expensive. But simulation software – we can replicate endlessly. We've created a diverse library of equipment types and distribute the required hardware at no-profit."
A simulator seats the operator in the crane cab where they get a 360-degree view of the terrain. Behind, the operator can spot reels of wire rope. Looking up at the sky, the operator sees a boom tip. The dashboard panel replicates crane controls. Speakers emit construction equipment sounds. The operator must assess weather conditions including wind, fog and rain. Several hazards can be tripped at any time like an outrigger punching through the ground or a sling failure. "The operator has to respond," Parnell says.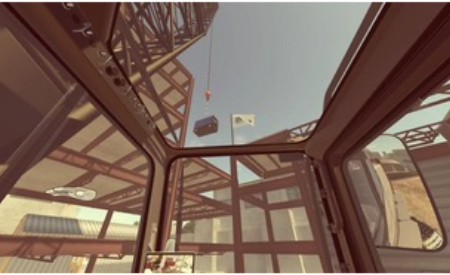 Crane management, moving equipment, inspection, maintenance, assembly/disassembly, engine repair and troubleshooting can all be explored virtually in a safe environment. "A whole new world is opening up for what can be trained virtually and tested virtually. Our emphasis is on building skills, promoting safety and developing personnel," says Parnell. ITI assessments are made on practical skills, knowledge and self-discovery. "As labor shortages hit, employers need the ability to quickly assess current skills and remediate with more training on-the-spot," he says.
ITI training sessions minimize lecture time and rely on experiential learning. That is, learn by doing. ITI has over 50 virtual reality stations deployed. The product is distributed in a unique way. When a company purchases the hardware, they then subscribe to ITI's simulator library which updates and evolves as new features and new equipment models are introduced. Subscribers gain access to library additions at no additional cost.
An entrepreneurial spirit leads Parnell to continue his quest for learning and discovery. ITI has conducted several studies to measure the authenticity of the VR crane simulator, when compared to actual cranes. "We use the exam results to fine tune virtual reality simulators so the expected outcomes of candidates are identical," says Parnell. He invites anyone to come and see for themselves how immersive virtual training is in the construction industry. He and his team will be exhibiting their new virtual reality simulators at CONEXPO-CON/AGG  2020.
A new ITI VR Simulator showcases the real feel of Carry Deck operation.
To stay abreast of the latest VR solutions and trends, subscribe to CONEXPO-CON/AGG 365.
*Images courtesy of ITI.