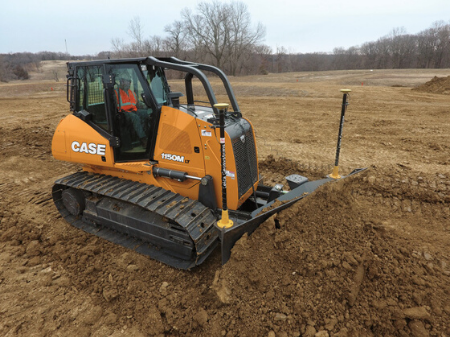 Learn practical strategies for how to choose the right machine control on equipment such as bulldozers. Host Peggy Smedley and guests Richie Snyder, solutions marketing manager, CASE Construction Equipment, and Max Winemiller, director of CASE's Road & Site Prep Division, talk about if it is best for contractors to invest immediately in more advanced systems and go all in—or if there are ways to take a more entry level approach and build from there. They also discuss what dozer owners and operators can do to improve their experience and enhance the machine's value.
If you want to listen to more recorded podcasts, click below to see the CONEXPO-CON/AGG archive of episodes.
Listen on your favorite app: Apple Podcasts | Google Podcasts | iHeartRadio | Spotify | Stitcher 
Show Transcript:
Intro:                              
Welcome to CONEXPO-CON/AGG Radio, highlighting the latest construction technology and trends to drive your business forward. Coming up in March of 2020, CONEXPO-CON/AGG is North America's largest construction trade show. We bring you expert advice from your favorite brands, startups and industry peers. For even more news, sign up for our weekly 365 e-newsletter at conexpoconagg.com/subscribe. We've got another great guest on the show today, so let's dig in.
Peggy Smedley:             
Welcome to CONEXPO-CON/AGG Radio, brought to you by the Association of Equipment Manufacturers. I'm your host, Peggy Smedley. Today we're going to be talking all about machine control, specifically dozers. We have heard a lot about it time and time again. Machine control can provide greater efficiency and safety. The technology continues to advance, and there's pretty significant growth predicted in the market. Market research future predicts the segment will grow to eight billion by 2023, which is a 14% growth rate per year. Today on the podcast we're going to provide practical strategies for how to choose the right machine control, and if it is best to go all in early on, or take more of an entry-level approach.
Peggy Smedley:             
We're going to be looking at this, and today we have two great guests joining us to tackle just about everything you can think of on machine control and dozers. Please welcome Richie Snyder, Solutions Marketing Manager at CASE Construction Equipment, and Max Winemiller, director of CASE's road building and site prep division. Gentlemen, welcome to the show.
Richie Snyder:               
Thank you.
Max Winemiller:           
Perfect. Thanks for having us.
Peggy Smedley:             
Let's start. Richie, I'm going to throw the first question out to you, because we've been talking a little bit before the show. How does a customer actually choose, now this is a great question, the right machine control for their needs? Because it's never really easy, and sometimes it gets a little tricky overall.
Richie Snyder:               
Absolutely. It really depends on their application. Various machine control systems are used to perform various tasks, so depending on what they're going to do and how they're going to utilize their machine control, that's where we're going to depict the right system. For instance, if a customer or an operator is just doing something very simple, just building a flat pad, maybe a 1D system. They just need to make something flat. If they're going into something more complex, perhaps digging a basement or a swimming pool, maybe a 2D solution where they can actually have a slope. If they're going even more advanced, or they're building possibly a road or something with a radius, a curve on it, we can't bend a light. Then they would step up to that 3D more complex system using GPS system or a robotic total station.
Peggy Smedley:             
So, when they're looking at this, at the time it's for that given project is how a contractor needs to really be thinking about the task at hand for that specific project, is what you're specifically saying right there. Right, Richie?
Richie Snyder:               
That is, but it's also scalable. If a contractor is looking at something, just something very simple, they can start with one solution and grow as their business changes.
Peggy Smedley:             
So they really ... The idea then is, and I'll ask Max a question in a second, but I guess I'm trying to wonder if, should they be going all in on these investments? Should they be holding some things back? Because the market changes very rapidly. As we know in construction, margins are thin, so it's nerve-wracking, I think, for them to go, "What should I be doing? Should I be looking at more advanced systems? Should I be looking at entry-level?" Because they don't really know all the projects they're going to have, yet sometimes they're trying to figure out, "One minute I have this project, but the next minute I have another project." You just described various projects, and sometimes it gets a little tricky knowing all the projects they're going to have all the time.
Richie Snyder:               
Absolutely. Well, that's the benefit and the value with Case's SiteControl offering. It's completely scalable. If they are looking at growing their business, they can start out with that value system, that lower-end piece, and then grow as they go. So, if they are starting out with something very, very simple, building flat pads, they could do something like our CoPilot system on a dozer, which is designed to do just that entry-level flat pad work. Then as they grow, as they start doing more and more, then that system is scalable so they can just add more product to it, rather than removing pieces. It's just going to add additional sensors, additional control systems so that as they grow they're not reinvesting in a product they've already purchased from the beginning.
Richie Snyder:               
As I mentioned, our CoPilot, that is a free CoPilot with any new Case dozer that's purchased from us. They get that offering already, and then as they grow to more complex work they can add systems to it. They can just add the additional technologies to make it a 2D system or a 3D. So, we take that worry, that guessing, out of it being so scalable.
Peggy Smedley:             
That's an important thing, right, Max? I think what it is, when you want to get the most value out of a machine, is that not what we look for? I think those are the things that you're thinking about with your business, is how do you encourage your customers, your operators, your owners, to maximize the machine's value. Is that correct?
Max Winemiller:           
Yeah, absolutely. When we talk about machine value, it's nice to sell these systems. It's good to see when they are adapted properly and they start making money and the return on investment goes up quite rapidly for the customer. But we very much tread lightly, and we want to make sure that we don't have them invest too heavily, too high of a system, for what their business can take. There are some owners and operators out there that do ... They start out with mainly trench work, and with trench work they're going to definitely reduce their machine hours, reduce their maintenance, that type of stuff, if they start out with the right system. But a 2D or 3D system may be too much for them to start with. They may want to start out with that CoPilot system like Richie had talked about.
Max Winemiller:           
Plus, your initial investment is so much less for something like that, versus a 3D system with a universal base station, all the other items that come along with those types of systems. There are definitely owners and operators that can use those systems to their advantage, but we typically recommend start slow, get some knowledge within your work force, get them owning and understanding the metrics that come from the equipment and how they can utilize it. Once you start to build some knowledge and build some momentum, that's where we start to help customers invest at an even higher level.
Max Winemiller:           
We've got business cases of folks who have invested at pretty much any level, whether it's entry-level or all the way up to full-on systems with SiteWatch and SiteControl and everything else that we offer. But I think the best place to start is to talk to your dealer about your business size, what you're trying to accomplish, what you're afraid of with the new technology. And they can employ us to help, they can have their local experts help make some decisions. I think that's a good place to start to determine how to make that move into some of the new technology.
Max Winemiller:           
We see the return on investment on dozers specifically, for instance, is quite significant. You've probably read from me multiple times, I've made the quote, "Owning and operating costs, about 65% of that comes out of undercarriage." We can talk about the basics, having a shovel on the machine, having the owners or the operators incentivized to clean the undercarriage, that type of stuff. But at the end of the day some of these types of technologies, the CoPilot, you can reduce the amount of actual time on the undercarriage moving overburden, overcutting, overfilling, those types of things. You can cut a lot of hours out of that undercarriage, which also reduces your maintenance cost. So, maintenance, owning and operating, efficiency, scalable to the size of your business, those things all add a bunch of value when you employ them properly at the right time and at the right level for your business.
Max Winemiller:           
One last thing that adds a lot of value for us that we've kind of got exclusive on now is the Universal Machine Control. A lot of people don't always think about resale value. If you're an expert or a professional in the industry and you've owned equipment for years, resale is for sure top of mind. But for us as an OEM, we've concentrated on that on behalf of our dealers and customers, and we employed something that we call Universal Machine Control. Now, depending on whether you do 1D with your CoPilot or 2D or 3D, GPS, whatever you do, if you have a Universal Machine Control system from Case, when you go to sell that on the used market, you're going to get more out of it, because no longer do they have to pull a cab and pull wiring harnesses and all those types of things. They can set it up for Leica, Topcon or Trimble and have peace of mind when they resell it, the next person owning it won't have to pull everything out and redo it for whatever their system is.
Max Winemiller:            
So, there's a lot of different ways to answer your question, but I think scalability is definitely something that we can help owners and operators with, and then we've tried to concentrate on getting them the most out of the machine with their investments with the Universal Machine Control.
Peggy Smedley:             
When you think about that, getting the most out of it, sometimes that does help and they talk to the dealer, but now we've seen this other trend occurring right now of saying, "Do I want to rent instead of owning?" Does that start rearing its head right now, where people go, "Maybe I don't want to own. Am I better off starting to rent because my projects are changing?" Does it become a different type of discussion right now? I don't know if that's something that's starting to become a lot of attention coming up because people are seeing ... Apps are popping up, and they say, "We see that the market is changing and because of that our way of going to market is changing." Or should they really be owning these and renting might not be the right decision for them either? Is that a discussion that needs to come up? I don't know. Richie, is that something you want to address, or Max? I'm not sure who might want to address this one.
Max Winemiller:           
Well, I can add a comment on that just on the machine side. The big thing we see with rents, a rent is for sure ... Renting and leasing, we're seeing an uptick in that type of machine acquisition based on site prep and construction work. The problem that some owner-operators run into is the availability in an up market. Not only that, but renting you can actually pay quite a premium sometimes, depending on the demand, the availability, that type of stuff. So, depending on the market and the fluctuation, whether it's on an upturn or a downturn, we think that there's a lot of good things about renting, leasing and owning, but it depends on what the timeline is, what your needs are, what kind of premium you're willing to spend in order not to have to make that full capital acquisition.
Max Winemiller:           
If you're at the peak of an upturn and availability is very low and premium is very high, and you believe that you have enough work to keep your business fully burdened even if you start to see that peak turn into a little bit of a downturn, that might be a good time to buy as opposed to paying the premium and being without the equipment and losing out on the work. So there's probably different cycles where owners and operators have to work that out, but I think another point I would make is that dealers, we've done a lot of work with the Case Construction dealer network to allow them quite a few options where they can put them all out on the table and talk about the cycle of the construction industry, and help the owner-operator make the best decision, whether it's renting, leasing, or actually buying the equipment.
Max Winemiller:           
But we've not seen any decrease in acquisition. In fact, as I would say, we've just seen a more diversification of both leasing, renting and acquisition across the environment. So, I don't think we're ... Well, for sure we're not selling less, but I think there are more available rental and lease offers and opportunities out there. They just have to weigh that out within their business in the cycle.
Peggy Smedley:             
So, there's a lot. It sounds like when you describe the market right now, we're in an uptick. We talk about the next 12 months is still gonna be pretty strong, and we see a lot of growth opportunities. Richie, this might be something I guess for you little bit to add, because we talk about machine control a little bit is highly scalable solution. I think when we talk about dozers and graders, they're getting a lot of attention right there with advance precision technologies and things like this. I think there's a lot happening there.
Peggy Smedley:             
Right now, what do you think needs to happen for the industry itself? When we're talking about compact equipment, do you think right now that contractors of all sizes are really going to find that they need to stay competitive? We've been talking a little bit about this right now, and we've talked a lot about it, I think, in this segment, but do you think there's a lot of things that need to be done for contractors to think about still? I guess it's a changing market still, and there's a lot of things to stay competitive, but do they need to really invest for long-term productivity of an operation like what we're saying? I guess I'm still trying to get my arms around what we need to be thinking about, especially when we have fleet managers. It seems like there's a lot of things to take into consideration here.
Richie Snyder:               
Absolutely there are. I guess the first things that I think about that I would like to express is reiterate the scalability. If a contractor does want to make a minimal investment on something that may be just an indicate type of a system that doesn't take over any hydraulic function, it just alerts them when they're on grade, that's a very, very minimal investment for them, and they can become more and more proficient. Then they can start growing and getting into more complex machine control offerings. That's not just for fine grading, there are solutions for excavate. So, they could go into that kind of a scenario where they know the depth of their bucket without having someone down in that hole checking grade, so that guy can now start doing, or girl, can start doing something else on the job site, making it more productive.
Richie Snyder:               
It can also eliminate the risk of knowing where the height of my excavator arm or boom is with a predetermined height they can put inside ... They can dial in inside their machine control, so they'll get an audible warning. Maybe there's a garage door or a power line or a canopy or something that they can't reach up beyond without damaging the equipment. There are so many different things to think about when ... not just the job site that they're doing today, but what they're gonna be doing. We're seeing an uptick in landscapers utilizing machine control to do their landscaping business. And Case, we're currently offering our first box blade that's pre-valved to use this type of system, this type of technology, right out of the box.
Richie Snyder:               
It really depends on what their goal is today, and then what their goal is tomorrow, because if they do have a surveyor, for instance, come out and stake out the job site, once those sticks are in the ground, that money is spent on the stick in the ground. They can take it with them. With machine control, when they make that investment on their equipment, that goes with them from job site to job site. So, the return on investment is great, but we also need to look at the big picture. When can I recoup that cost? And knowing that they can take it with them job after job after job, they can really talk with their dealership, with their dealer professional, and look at that as their whole investment just like the machine cost.
Peggy Smedley:             
What piece of precision technology will have the biggest impact, I guess, on construction, let's say in the next ... I hate to say five years because it's changing so fast. I don't even think any of us have a crystal ball for this one. But is there something that stands out in your mind, let's say in the next couple of years, I think that really pops, that you really feel strong about?
Richie Snyder:               
Sure. There's a couple things that pop out at me when I start thinking about the future, the next couple years, what the contractor can utilize machine control for. One of them is developing a newer operator. They'll be able to put someone with less experience in a machine, have the machine control engaged, and make that operator ... give them actual stick time and actually cutting to grade relatively quickly. So, they can take advantage of everyone that's on the job site doing a function that makes them more productive.
Richie Snyder:               
The contractor, the operator, can also control the entire job cycle, from capturing the raw data of the earth from the beginning to creating their own model to doing their site prep. They can also check their grade actually in the machine. It will tell them how far they still need to dig to get to that final grade. So they're going to be more productive, which means less wear and tear on the machine, more fuel savings, things like that, and less downtime, which I think is key over the next several years to make an operator or contractor more profitable.
Peggy Smedley:             
Richie, you raised an interesting point about what we have when we have younger operators and things like that. That raises in my mind some hurdles. Max, do you think we still have some big challenges to overcome? I know we have an aging work force, and we've talked about this a million times, that we have this younger generation, we have to train them. But we know the benefits of what's inside the cab and how sophisticated some of these are. But are there some still hurdles and challenges the industry still has to overcome in the next five years that we really have to start facing?
Max Winemiller:           
Oh, yeah. I think that's probably the question that's on everybody's mind. How long will this last? We've got a lot of people retiring who were operators for many, many years. Not only do we have the new work force coming in, but one thing that we're also hearing from companies that we speak with, customers and dealers, is not only are there a lot of new and young operators who really don't understand how to operate the equipment and make it the most efficient way possible, but the turnover is higher, so you get somebody in and you spend time training them, and pretty soon they're off to their next adventure in life. That is very painful once you've put all that time and money into training them. We think that's gonna continue, to be honest with you. We're seeing more and more of it, we're hearing more about it. We as an OEM are actually trying to get involved a little bit with some of the things we're doing with some of the companies that we work with to help out with some of the training opportunities or lack of training that's out there.
Max Winemiller:           
We're trying to help as much as possible, but we definitely see that continuing, and I think the thing everybody's talking about, like I said, is the amount of young people. But I think it's not only the young and new people to the industry, but also the difference in how long they stay with an employer. It's just a different mindset. One of the customers that we spoke with earlier this year about how they had planned to integrate machine control in their business, they made it clear to us that they took a 22-year-old young person, put him in a piece of equipment once they had machine control, and within an hour they were hitting grade. That's the real-life opportunity with some of this stuff, to avoid being impacted from what's going on in the industry. So to answer your question, we see it impacting the industry for quite some time.
Peggy Smedley:             
Well, let me ask you this then. How should the industry then, I think, prepare for this change in the next 12, maybe 16 months. Should they be doing some things differently? Because you just described, if you train someone, you give them all the tools, and then they job hop, they leave, that's an expensive endeavor. You can't afford them to get up and leave. Are there some things they need to be doing? Do they have to be giving more money up front? Do they have to be doing some assurances so these people don't get up? What does the industry overall need to do to keep these people?
Max Winemiller:           
Well, there's a lot of talk about how to incentivize them to stay with the company. That's probably a whole 'nother podcast, so I won't go too deep. But what I would say is, if there's a way to make the equipment the least amount sensitive to the training curve, that's where I would probably give my guidance. We talked a minute ago about rental, and a lot of people are afraid of renting because machine control oftentimes you have to purchase the system. We've tried to focus in on every avenue, which includes rental, on machine control, which is why we did the Universal Machine Control. So, you can rent a piece of equipment, buy the machine control system, and then utilize it on that piece of equipment with the Universal Machine Control, and then when you're in between jobs or you have an operator away or whatever it may be and you're not actually renting anymore, or you're in a downturn, whatever it may be, your only investment is actually the machine control system, which bolts right on and off of the Case dozer, for instance.
Max Winemiller:           
On top of that, trying to have a machine system setup that is insensitive to operator turnover. What I mean by that is that 22-year-old, for instance, who got in the dozer, within an hour was hitting grade, your investment in that, rather than having somebody in a machine for two weeks, let's say, learning from your 40-year veteran expert operator who can feel the dirt as opposed to only seeing it, that's a much heavier investment. So, the route we're going, besides the conversation that's going on about incentivizing employees to stay with different terms of employment and compensation and perks and all the other things that employers are using to keep young, new construction workers in the work force, I would say making your machines insensitive to that turnover as much as possible. If I were an owner-operator, I'd much rather have an hour invested in teaching someone how to use machine control on a dozer, as opposed to a week or two weeks invested with two employees trying to train someone who may leave in six months.
Peggy Smedley:             
Well, it sounds like there's a lot still to be done in the construction space. I'm curious, just both of you, we've got just a couple minutes left. Richie, any thoughts on advice you would give the industry on what they need to be looking at? Because it sounds like the next year is still a really positive one.
Richie Snyder:               
Absolutely. Technology is here to stay and it's evolving constantly, so the key I think is to really be intuitive with what you're putting out there in the marketplace. As Max mentioned, someone that's maybe just in the dozer for an hour with machine control and being so intuitive and easy to navigate through, the learning curve is much smaller. It's greatly reduced. So, by having that that's so much easier to operate, so much easier to get to grading without the frustration, I think that's going to be key to having more success in the future.
Peggy Smedley:             
Max, any final thoughts from you?
Max Winemiller:           
The only thing I would wrap up with is this upturn that we've been in... We're at all-time industry highs. It's fantastic. Unfortunately, the work is outpacing the availability of a lot of not only OEMs but construction workers and the amount of ... It's a wonderful time to be in the industry. My final goal and advice for anyone listening is I would love them to take advantage of that for as long as the foreseeable future allows. I would also provide a little guidance, as I've been through a couple of these cycles. Just keep an eye on the indicators, invest properly for your business, go all in as to the pace of what your business will allow in order to make the most money possible, but just be aware when things soften, and they will in CE eventually. It could be 10 years, it could be five years, it could be ... None of us know. But just be ready for adaptable technology.
Max Winemiller:           
So do what's right to make the most amount of money possible, but do what's right for the long-term longevity of your business as well, because we want these construction companies around for a long time. We have lots of solutions. We want to help you grow your business and gain on return on investment, and we're looking forward to a lot of very positive years in the future here.
Peggy Smedley:             
Richie, Max, thank you so much for your time today.
Richie Snyder:               
Thank you, Peggy.
Max Winemiller:           
Absolutely. Thank you, Peggy.
Peggy Smedley:             
All right, there you heard it. Richie Snyder, Solutions Marketing Manager for Case Construction Equipment, and Max Winemiller, director of Case's road building and site prep. Thank you so much for being with us. Well, that's all the time we have for today. I hope you've enjoyed learning so much about the insights in how to move forward in your business. That's the end of our show today. Join us next time. I'm your host, Peggy Smedley.
Outro:                             
That's going to wrap up this edition of CONEXPO-CON/AG Radio. If you like the show and think other people should listen too, make sure to subscribe and maybe leave a review on iTunes. We'll be back next time with another great guest. Until that time, be sure to visit conexpoconagg.com/subscribe to sign up for our weekly e-newsletter. More than 30,000 other construction industry pros are already receiving news and insights to move their business forward.