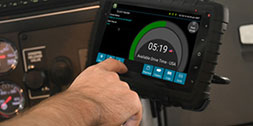 Telematics and GPS (global positioning system) enables the construction industry to better manage fleets, and technology providers continue to come to market with new solutions to meet the needs of contractors.
For instance, GPS Insight, a technology provider of GPS vehicle and asset tracking solutions for commercial and government fleets, has a new ELD (electronic logging device) solution. The GPS Insight Hours of Service Solution comes to the market with a feature that will streamline fleet management and ensure FMCSA (Federal Motor Carrier Safety Admin.) compliance.
The ELD solution bundles an Android tablet hardwired to a GPS tracking device. The ruggedized ELD tablet has an intuitive user interface to ensure ease of use for all drivers. The management portal is Web-based, secure, and accessible via PC, tablet, and smartphone.
Along with the functionality required by the FMCSA, GPS Insight has key ELD features that create a fleet-management solution. Drivers and dispatch can message each other between the tablet and the Web-based interface. This capability will reduce the number of phone calls made and streamline communication with individual drivers or the entire fleet. Navigation is built into the ELD tablet. Management can dispatch audible and visual directions for each job to drivers using designated truck-specific routes. The ELD solution combines E-Logs with GPS monitoring, alerting, and reporting solution.
This is one example of an ELD solution that offers an alternative to paper logs and provides benefits beyond compliance. Today, many tech providers are offering new solutions to meet the changing mandates. In the future, technology will transform the vehicle and asset tracking solutions for fleet management.