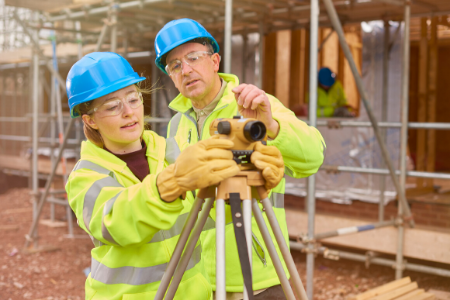 From a logical standpoint, the skilled worker shortage in America shouldn't exist.
Nearly seven million Americans are currently out of work, yet nearly half of U.S. employers are struggling to hire people, with skilled trades vacancies being most difficult positions to fill since the turn of the decade. The skills gap has long been an issue of great significance, and there's every reason to believe a shortage of qualified workers will continue to plague the construction industry for years to come.
Why? Because the contributing factors to the skilled worker shortage are constantly changing, and any solutions for addressing it are becoming obsolete even before they can be implemented to any great effect.
"Our brains are wired to think in a linear fashion, and based off what we see in the past," said Jim Schug, principal and operations management leader for FMI, a management consulting firm that specializes in providing services for engineering and construction, infrastructure and the built environment throughout North America and around the world. "It's rooted in precedent, and it's rooted in experiences and memory. It's going to be way off, and we're not going to be able to comprehend it."
A Changing Work World
Drawing upon previous experiences and applying past information to address the shortage of qualified workers won't work, said Schug, because the future of the construction industry will look unrecognizable compared to the present.
Computers are being programmed to learn, to recognize patterns, and even to teach themselves. All it takes is adding robotics to a user interface, integrating everything, and then programming the machine to conduct specific or conditional tasks. Considering how much information exists on a global level today – and the rate in which the amount continues to grow – it seems reasonable to suggest what computers will be capable of in the not-too-distant future is quite literally beyond comprehension.
"This is changing our world, and we have to accept it," said Schug. "Now, what is it going to look like in five years? I don't know, but I wish I could tell you."
And therein lies the problem with the ongoing evolution and development of technology: it's disruptive, and it prevents many companies from being able to make certain business decisions with any level of confidence. According to Schug, it's quite difficult to attract a workforce to the construction industry when the future is so uncertain. But, he said, it's not impossible.
Building Talent Factories
It all starts with hiring key talent – based on competencies and characteristics, rather than skillsets – developing them and leading them on a path toward long-term professional success.
"We need to hire people who are humble, hungry and smart. Folks who are willing to learn and who are curious," said Schug.
Acquiring the right talent requires a certain approach, one which seeks to transform companies into talent factories. This is achieved in a number of ways: the development of career paths for employees, the creation of a clear and comprehensive matrix of workforce expectations and – perhaps most importantly – increasing pay to retain existing employees. All of this serves to help contractors build a workforce capable of "making stuff happen in uncertainty."
Said Schug, "That's the world we're moving toward, (one with) a lot of uncertainty, and we have to figure out how to lead in that world."
Leadership Above All Else
Schug recalled his father once sharing his approach to corporate leadership, one which the FMI principal and operations management leader said is now both archaic and obsolete in today's work world. In addition, he noted that a business adopting it would accomplish little else other than setting it up to fail in the long term.
"He said, 'Keep all the information and don't share it," explained Schug. "'Because if you keep the information, they can't fire you. And don't admit you don't have the right answer, because people won't believe in you after that.'"
The prevailing attitudes of the past simply won't work in the modern work world, and failure to lead properly leads to dire consequences for companies. Therefore, it's critical, said Schug, for management to "set the tone" by making leadership a priority and eschewing conventional approaches to workforce development.
"The old-school management styles were, you will be here at this time, you will follow this process and you will do it this way," said Schug. "That's management. Leadership is very different. You got to get the most from the team, and then (it) will perform well."
Developing a Learning Culture
If addressing the skills gap starts with acquiring and developing the right talent, than training these people to maximize their positive impact on the organization is where a contractor will begin to see its efforts bear fruit. How? Through the proper development of a learning culture.
It's no easy task, especially for companies who lack the time and resources to do it properly, but it's the only way contractors can gain accurately evaluate situations within the organization to determine what actually goes right, what goes wrong and what should be done when a similar set of circumstances presents itself in the future. So, Schug said, developing a learn culture through training needs to be a significant priority for companies today – and, more importantly, it needs to be done right.
"When we pull people out of the field to do training, it had better be good, it had better resonate, and it had better help us," he continued.
The ultimate goal of workforce development is to provide employees with the means to help their respective companies win in the market, and it can't be achieved unless organizational leadership is committed to establishing an environment where people can obtain the skills they need to do the job – both now and in the future. Through proper training this can be accomplished – but only if it's reinforced over time.
"If I provide the best training in the world today, in six months you retain only about 20 percent," said Schug. "I could increase that to over 40 percent if I bring it back every once in a while. Our memories are short and long term, so we need that receptiveness to get that attention."
Where We're Headed
What constitutes a construction job in five years is anybody's guess. It'll certainly be different than it is today, but companies literally can't afford to wait and see what the future brings. According to Schug, they need to come up with their own plans and start moving toward them immediately.
"You don't want to train people for where you were," he said. "And while it is uncertain where we are going, that doesn't mean we throw our hands up, quit and not change."
By Mike Schmidt, Association of Equipment Manufacturers