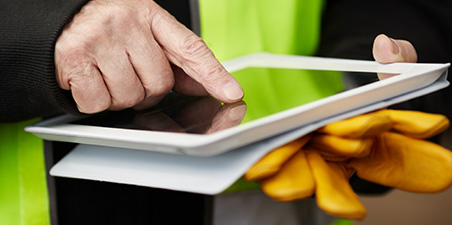 The jobsite is becoming increasingly connected. More and more industry reports are supporting this statement backed by long-term growth projections. This includes smarter equipment, materials, and tools. But enabling the connectivity to create the jobsite of the future isn't an easy task. Simply, it requires a lot of backend technology to create the smarter jobsite that we have all come to expect and even demand.
As such, construction companies need to consider what is required in terms of connectivity in order to achieve the benefits and future opportunities that exist with a more connected worker in the field.
Connectivity in Construction
As the technologies advance, there are several thoughts on what has spurred innovations for the construction jobsite.
For instance, Mitch Tobias, customer enterprise digital manager, Caterpillar, says, "The industry is doing a lot of great work today. That said; there are many opportunities that technology can help reduce costs, improve safety, or increase productivity."
Still, there are a number of challenges that exist in order to achieve those benefits. For instance, construction companies need to ensure that workers have the connectivity necessary when and where they need it, which can often be in rural locations. However, the good news is technology is progressing very quickly, and there are new products emerging that are offering greater options for construction.
Sue Rutherford, vice president marketing, Orbcomm, says there are improvements in the design and reliability of the products. Telematics gives feedback as to how the machines operate throughout the course of their lifetime, and this affords the freedom to provide improvements in the design to make it more reliable.
Once the connectivity is in place, the opportunities are endless when it comes to leveraging technology on the jobsite. For example, technology can correct human error, and perhaps even save a life.
Mark Walton, cofounder and CEO, Gorilla says, "An area of challenge remaining is driver behavior and the tracking and training of drivers with poor driving habits. Technology is now available to do more than just track the behavior, but also change the habits and improve the safety of the fleet. This is done through scorecards, performance indicators, and immediate feedback to the driver. Technology is now being forced into the fleet, opening doors to more efficiencies, transparency, cost savings, and operational opportunities."
Come December 18 many enterprises will need to follow the Electronic Logging Device mandate, which requires ELD use by commercial drivers who are required to prepare hours-of-service records of duty status. This establishes what supporting documents drivers and carriers are required to keep, and it will change how data is tracked in the construction industry.
Even with the benefits and opportunities that the new technology can bring, having it adopted and implemented on the jobsite is another story.
"Some of our biggest challenges are changing the mindset. The use of technology often replaces something that has been around for years. Take paper timecards that can now be done on cellphones only. It is not that the traditional way no longer works; it is just that there is a different way of achieving a goal or solving a problem that is slightly different," Tobias says.
Sometimes a construction company does not have the resources to adopt new technologies. Orbcomm's Rutherford says economic growth or lack of in some cases, is forcing more companies to focus on the rate of return of individual projects, and so many are considering renting equipment rather than buying.
The new technologies that are emerging within the industry that are geared towards enhancing the customer experience and service should create a better, more reliable product in a business that can rarely afford unscheduled downtime.
There are several hurdles to the adoption of new technologies that are focused on safety and compliance. Walton explains, "What most companies find to be the most challenging is (encouraging) the workers to regularly use the solution rather than just forgetting to do what he is supposed to do. With technology, the manager and team members have to continually focus attention on the new technology so it becomes habit. Only then will the operation be in a position to take advantage of the new opportunities."
Benefits of the Smarter Jobsite
When a jobsite can become connected, there are multiple benefits. Tobias says some are improved safety by getting people out of harm's way, reducing costs of material, labor, machine hours, fuel, and maintenance and repair, increasing the available workforce by making jobs easier to do, and helping that new operator become more proficient quickly.
Visibility is another perk of using telematics and technology for connectivity. "It's hard to manage what you can't see, and many heavy equipment fleets are deployed in remote areas. Basic telematics offers fleet location information and status as to whether the unit is operating. This provides a certain level of value to customers who can understand where their fleet is and how it is being used. Adoption of this level of technology is widespread and mostly useful to fleet operators," Rutherford states.
Having advancements at the jobsite can improve more than just the conditions there. "The benefits are many. First and most importantly is safety. Second is compliance. The more difficult to gauge is the return on investment a business operator will receive from reduced insurance costs, improved customer relations, additional efficiencies, less downtime, among other things," Walton says.
Future Opportunities
As the construction industry becomes more connected, the opportunities for construction companies will increase. Tobias insists the adoption of technology is often contingent on someone being willing to try something new in a traditional and very mature market. Once they do, they often don't ever want to go back.
This is proving to be a time when technology is booming again. "If a contractor implements new and valuable solutions, he will be able to take advantage of efficiencies before any other contractor. When this happens, the return on investment is much greater, as the margin will remain intact while other contractors continue to bid at a higher price," Walton says.
Sometimes the only way to know if the solution will work is to try it out and implement it at the jobsite. The contractors who take risks and embrace the new innovations to increase connectivity will be the ones that come out on top in the future.