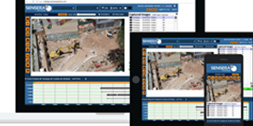 On-site monitoring is paramount for ensuring both security and productivity at the construction jobsite. Now, more energy-efficient portable cameras are emerging, and they will transform how business is done in the construction industry.
As one example, Sensera Systems, is bringing to the jobsite a portable, solar-powered monitoring and time-lapse camera system, the Sensera MC26. The camera will change the way builders and project managers document and promote their projects, as well as support potential claims and disputes.
The MC26 has site security and surveillance solutions, including all-time remote monitoring and management, live streaming, DVR and time-lapse. This solar-powered, wireless live video webcam with time-lapse documentation provides contractors with a solution for renovations and short-term construction projects. Its simplicity brings advanced real-time construction site monitoring technology to residential and small project applications.
This particular solution is software-as-a-service, which provides the ability to monitor, document and promote projects of all sizes from any Web-enabled device, including smartphones, tablets and PCs. The platform gives users access to high-quality video for realtime management, custom administration and camera scheduling for detailed documentation. It also offers tools for instantly sharing time-lapse movies and showcasing projects on Websites and social media.
While this is one example of a construction camera, the trend of documenting the jobsite—without any extra power source—is one that is beginning to emerge.