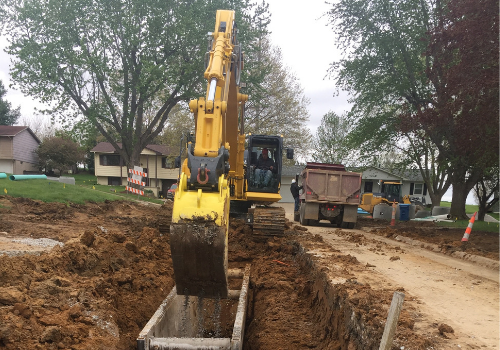 This topic was presented at CONEXPO-CON/AGG 2020 at the "Drones on Construction Sites for All Contractors" education session.
From machine control to drone survey data, material takeoffs to volumetric calculations and progress reporting, site prep contractors have many ways they can incorporate new technologies into their workflow, but misconceptions are holding some contractors back.
We spoke with Ryan Murguia, president and Zach Pieper, operations manager of Quantum Land Design, based in Sperry, Iowa, to get the facts. Quantum Land Design specializes in managing and preparing site data required for including 3D machine control, drone data and takeoffs of any scale.
Murguia and Pieper not only understand technology, but have previously worked in construction, so they know what contractors need to get done. "We help contractors figure out how each piece of the technology puzzle can fit into their operation," says Murguia. "We can demonstrate different technology use cases they might not have considered."
Here are the five biggest misconceptions about technology for site prep contractors:
1. It's going to be difficult and expensive to collect data from a drone.
"There's a misconception that you need an expensive drone, someone that is highly trained, special survey equipment or a costly web service contract to process data," says Murguia.  Instead, Murguia says that most of the equipment needed is already in place on the jobsite. The reality is that most contractors already have machine control and a GPS rover set up on the site. "If you have that equipment, it's pretty straight forward to add a drone to help you collect topographic data." Pieper says he can teach someone in two to four hours how to get the data they need from a drone flight.
 2. Old ways of measuring earthmoving are more reliable. 
Site prep contractors are paid based on the amount of dirt moved, and historically those numbers have not been calculated, but estimated based on the truck count and the average amount in a truckload. According to Murguia, those estimates might be 20-50 percent off the actual amount of dirt moved. Drone data is a game changer because it can capture accurate cut volumes based on millions of data points in minutes. Clients are assured of more accurate billing and costly disputes are avoided.
Murguia says an engineer working on a hydraulic dam project didn't trust the data captured from drones, so he also used traditional surveying methods and compared them to the data from three flights. "We were within four percent of the volume numbers and they trusted our numbers based on drone data more," said Murguia. 
3. We need large jobs to make effective use of drones and machine control.
Another misconception is that machine control only makes sense for large jobs. "You can use it just for digging a basement," says Murguia.  In one use case Quantum Land Design used drone data to create a machine control file to address drainage issues on a new construction home site. With the expansion of machine control to excavators, the number of jobs using machine control is growing rapidly.
4. Our firm can't afford to outsource.
While Pieper and Murguia recommend contractors capture their own data, they also believe that for most companies, it makes sense to outsource managing and manipulating the data.  "The learning curve is really in the office," says Pieper.  Hardware and software is a big expense.  Outsourcing makes the technology accessible to small firms that may not have the resources for an estimating department or data analysis. "The immediate value comes from making sure you get paid accurately for the work completed."
 5. I can only use drone data for measuring stockpiles.
Pieper says contractors have tendency to purchase a drone for a particular task such as measuring stockpiles, and then use it only for that one task. "There's so much more you can do with them that is valuable," says Pieper.  In one use case a customer saw some extraordinary results.
A quarry customer was having trouble with failing transmissions on their haul trucks.  An analysis of the quarry survey data captured by the drone revealed steeper slopes than was specified for the haul trucks.  After the haul road was redesigned to the proper specs, the company saved over $300,000 in fuel and maintenance costs in one year.  "It took just four days, from drone flight to delivering the machine control model with the new haul road, they were able to see the benefits immediately," said Pieper. "A traditional survey, design, and construction staking process would have taken weeks, and been far more dangerous in this situation."
Murguia and Pieper presented the educational session "Drones on Construction Sites For All Contractors" at CONEXPO-CON/AGG 2020.

Subscribe to the CONEXPO-CON/AGG 365 weekly newsletter to get more stories like this.