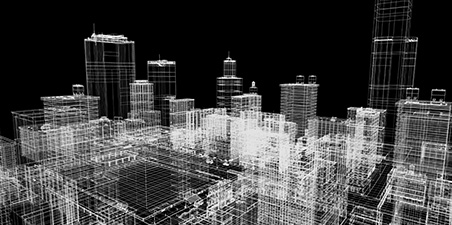 Prefabrication is reducing costs and improving quality in the construction industry, by avoiding incorrect or uninstallable elements on a jobsite. Prototypes of prefabricated elements are not only being required by owners and general contractors, but are prudent for increasing success of prefabrication. 
Unfortunately, multiple prototypes of prefabricated elements are both time consuming and costly. A typical mechanical rack can cost upward of $10,000 to prototype, with more complex prefabricated elements reaching $30,000. Building prototypes for each iteration can approach six figures and hundreds of hours. This time and cost burden can be significantly reduced by exploiting 3D printing technology.
3D Printing & Revit Models
There are no current plug-and-play interfaces between 3D printers and mechanical Revit models. In order to take a mechanical Revit model and create a printable file, several steps must be taken. First the file needs to be prepared to facilitate the 3D printing process by making necessary modifications to the Revit model. These modifications include simplifying complex model geometry or over ticking areas that could fail during the printing process due printer limitations. For example, for small diameter piping being printed at a reduced scale, the diameter of these pipes would need to be exaggerated to reduce the probability of the print failing.
Once satisfied with the quality of your model, you must then translate the Revit model into a format that the printer's software can interpret. Commonly, this means exporting your mode into an Stereolithography (STL) format, using an STL exporter add-in for Revit or through the use of Dynamo. After your model has been translated to desired format, you must further modify the file to repair and modify problematic areas that result from the export process. Many 3D printers come with software that aids in this portion of the process. Several third-party software options, such as Autodesk's Netfabb, are also available for optimizing the quality of your file for 3D printing.
Once the file is prepared for the printer, it can be sent to print on a company-owned or third-party printer. Typically, the prints take between 48 and 72 hours to complete, plus post-processing.
Once the 3D printed prototypes are complete, we are using them in the same manner as full-scale prototypes. The team uses them to analyze constructability of the prefabricated element. We are also using them to plan truck loading schemes, material handling pathways through the building, and schedule sequencing. The pieces are especially useful for visual-spatial learners, including a large portion of engineers and construction staff. As 3D printing continues to grow in popularity and drop in price, we expect to see this technology make a significant impact on the construction industry.
by Timothy J. Williams, senior project manager, Southland Industries