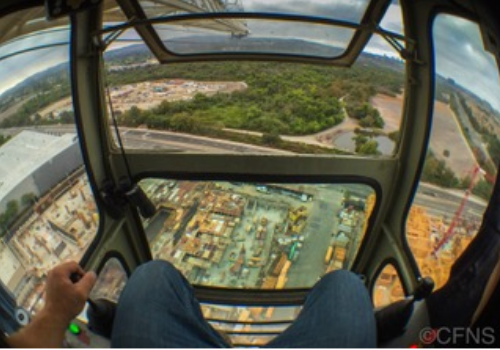 While attending an electrician apprenticeship program a friend of Matt Sparkman's asked if he'd be interested in a position as a rigger and crane operator at his company.  It didn't take much to persuade Sparkman to switch course.
"It was a fascinating idea to me. We climbed up on a crane. I didn't have any fear of heights. He hired me as a rigger. I went to Doc Bailey Construction Equipment in California for training.  I was certified and then went through a two-year apprenticeship program with the company before logging a 40-hour week on the crane."
During his apprenticeship years he chased the hook, rigged material on mid-rise projects and inspected rigging gear. It would be six months after his NCCCO certification in 2007 that he was allowed to operate the crane unsupervised. He's now logged more than 10,000 hours on a tower crane and attributes his success and expertise to the multi-faceted training he received. "A solid, trustworthy team of operator and rigger is indispensable when working on a high-rise project," he says.
Besides catching beautiful sunrises and sunsets from a 30-story high vantage point, operating a tower crane has broadened Sparkman's perspective on construction. "Being a tower crane operator gives me a unique opportunity to participate in each phase of high-rise construction," he says. "You have to be patient and even tempered in order to deal with all the personalities on a construction site."
Whether it's lifting a backhoe from an excavation pit or proper rigging, he enjoys the precision of the lifting as well as interacting with all the trades. While 97 percent of crane operators are men, Sparkman welcomes the increasing number of women operating cranes. "In my observation, women operators have a strong attention to detail. They seem to care a lot. Which is good."
Career Outlook for Tower Crane Operators
Sparkman is currently employed by Stafford Crane Group, the largest crane company in Phoenix. And it's a good place to be - crane operators are currently in demand. An increase in construction of high-rise buildings, infrastructure and an ongoing need to load and unload containers at shipping docks is driving that demand.
Based on years of experience, geographic location and types of projects, Sparkman says tower crane operator income varies but some can earn up to $100,000 a year. ZipRecruiter puts the national average income for tower crane operators at $79,722 as of March 2019. The Bureau of Labor Statistics reports an average salary of $60,411 in 2016 with an estimated job growth rate between 2014 and 2024 at 8.6 percent, which is higher than the projected national workforce growth of 7.4 percent.
Tower Crane Technology Advances
Technology improvements are making life better for crane operators. "The digital readouts in the cab minimize the need to make manual calculations on weight, swing speed and counter swing," Sparkman says. Other technology he appreciates as a tower crane operator include cameras, electronic grease guns for maintenance and limit switches.
"I have operated a crane with a camera attached to the hook block and it was very helpful. It's a big stress reliever when picking in the blind. Electronic grease guns make greasing much easier and faster. All cranes have limit switches that prevent overloading. In tower cranes they are called moment switches. Basically, once they hit 95-100 percent the switches engage and prevent the crane from moving any further in that direction."
He also appreciates how tower cranes operate with low impact to the environment. "Once permanent power is run to the tower crane the diesel generator is no longer needed, so towers are basically zero emissions as they are 100 percent powered electrically."
One of the advantages working at Stafford Crane Group Sparkman says is their ability to design their own cranes, including some with bathrooms. This is a feature he appreciates during long days on the jobsite.
Sparkman recently finished work on The LINK, a luxury, multi-use 31-story tower in downtown Phoenix. The project required lifting 20,000-pound platforms. "It's a dance with riggers," he says of the feat. "A crane moves, flexes, creaks. You have to get used to it, the physics of it. You have to be very aware of conditions." There have been a number of times when his "heart rate elevated." That's because he knows if all doesn't go right someone could get hurt. "Safety is paramount. There is a balance between moving quickly and moving safely," he says. Sparkman shares some spectacular views from his crane on Instagram (msparkman13). 
Join over 32,000 industry peers who receive construction industry news and trends each week. Subscribe to CONEXPO-CON/AGG 365.