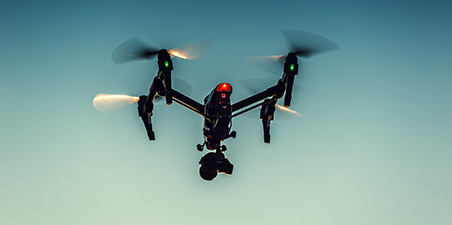 New and emerging trends surrounding drones continue to arrive at the jobsite. For construction companies, drones are quickly replacing land surveying methods as a way to collect jobsite data in a safe and efficient manner. 
The challenge is implementing the technology can be expensive and requires flying experience. Add to that the fact that managing all the data coming off the drone can be time consuming, and construction operators have a tall task when implementing the technology.
The good news is the technology continues to advance, offering new and unique opportunities to construction professionals out at the jobsite. Here are three ways technology is easing the learning curve for drone implementation on construction projects. 
1. Web-Based Drone Management
As one example, many drone providers are beginning to offer fully integrated, web-based software to help businesses manage their drone operations.
One example of this comes from DJI, which offers FlightHub to manage flight data, drone fleets, and pilot teams. This enables construction companies to view teams' remote drone operations in one place, while also accessing flight logs and statistics.
This is only one example. Being able to access drone data from one central location can provide new benefits for construction companies using the technology.
2. AR Technology for Drones
Another emerging trend is the fact that drones and AR (augmented reality) are beginning to collide more often, as more companies are offering AR technology for drones.
This enables pilots of any skillset to use their drones to create, edit, and share objects in the sky. As one example, DroneBase launches AirCraft, a beta AR platform for its drones. This will allow pilots to create their own designs with 3D blocks using different colors and textures.
Additionally, pilots can build CAD (computer-aided design) models at a construction site or evaluate a post-disaster insurance claim, among other tasks.
3. Wearables Aid in Flight Training
Building on the concept of leveraging AR in combination with drones, another growing trend is the use of wearable devices and drones at the construction jobsite.
Epson has launched an AR drone flight simulator app designed specifically for smart glasses. This app is designed for training on drones with Epson glasses. This will allow the user to fly a digital drone in the real world using flight controllers. Meanwhile, the simulator mirrors the natural, real-world movements, allowing new pilots to learn to fly and experienced pilots to sharpen their skills.
The use of drones in the construction industry is growing—and so too are the trends and emerging technologies surrounding the use of drones.